2011 Polls: INEC Raises Cost from N72B To N74B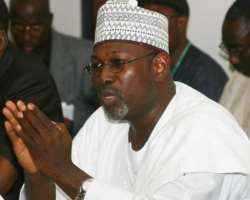 PHOTO: PROFESSOR ATTAHIRU JEGA BRIEFING THE SENATE COMMITTEE ON ELECTORAL MATTERS AT THE NATIONAL ASSEMBLY COMPLEX TODAY, JULY 28, 2010.

ABUJA, July 28, (THEWILL) - Chairman of the Independent National Electoral Commission (INEC), Prof. Attahiru Jega today raised the budget for the conduct of 2011 elections from N72 billion to N74 billion.
He said the commission under calculated and as such has to rework the figures taken into consideration other exigencies that must be met for a smooth poll.
Jega spoke when he faced the Senate Committee on Electoral Matters. He also demanded that the funds be made available to INEC by latest August 11 as it is now operating under a very tight frame, adding also that the current voters register cannot guarantee a credible election.
"The best option in the circumstance is fresh voter registration, but if Nigerians feel they can manage the one available, fine," he said.
Jega who briefed the Senators on the urgent need for the funds and the sudden increase, he said the amount is justified considering the new option of deploying direct captured data captured machine for voter registration.
"With regards to direct captured alone, if you want the best machine which is laptop based and not hand held, which has a very good resolution work camera and which has very good standard finger printing accessory and which has an extra power pack, just in case of the battery running down, also we factored in some generating capabilities just in case everything fails and in our own country, you cannot guarantee anything, we have to take a lot of measure to see how we can improve on the situation.
"Now if you take all these into consideration, the cost of the direct capturing machine alone, the unit cost from what we have got so far and that is not going through the vendor, the unit cost is about $2000. If you calculate $2000 by 120000 units of machine at N152 per dollar you will get about $240 million that alone gives you N36.8 billion just for the equipment alone. If you are going to go through the vendor which is an option we are trying to avoid, then you have to factor at least 30 percent profit margin.
"So that in itself raises the cost of the equipment to N55 billion. And then if you take the cost of the training which we have costed, the cost of voter education which we have done, the logistical requirement in terms of transportation and also the allowances that has to be paid to the personnel whether they are for training purposes or for actual exercise, it comes to a lot of money. So from our own calculation, clearly we will need N74 billion.
Continuing he said; "We realize that there was even an error in the calculation. We have corrected it and made it available to the executive where we first made that. So we took all these things into consideration and as I said for purposes of planning, you have to use the highest figure. We would not say give us N55 billion and we run into hitches with the preparation with the direct suppliers. The best thing is cheaper to go direct to the manufacturers and that is the option we are pursuing and we are doing a lot of discussion on that. But we have to have the money just in case we cannot get the manufacturers we have to go with vendors. That is really how the cost element is. If N74 billion is allocated and in the end we can only spend N55 billion, it is saving for the government," he said.
Jega also spoke on the machines that are available, saying; "With regards to the machine that are available, it is true that there are machines that are available but we have been in INEC now for 29 days and it is difficult to have a clearer appreciation of how many machines are there and out of this machine how many are actually functional. We also know that the briefing we have received, that some of the equipments that were procured in 2006 are substandard and we also know for a fact that equipment such as laptops has a life span of not more than five years, even under optimum circumstances, if they are five years old you should replaced them.
"Taking all of these into consideration we feel that if we don't want to run into the same problem that the previous exercise had ran into where you deployed equipment and then there are problems of either the soft ware's or the finger printing or the web camera we felt that we don't even know the number that is serviceable that can be used, we felt that the best thing is to plan for fresh procurement.
On preparations by the commission, the INEC boss said; "We are operating under a very tight frame, the way we are thinking now as a commission is that if the funding requirements are made available latest by the August 11, which is the second week of August, we will be able to initiate a procurement process. Under very tight time frame, but it is possible that we can procure all the 120,000 units of direct captured machines which we need and we will be able to prepare for the training, for the deployment, for the production of all the necessary materials as well as the voters education.
"We are hoping that latest by the third week of October we should be able to deploy all of these equipment and the personnel who are appropriately trained to be able to undertake this voters registration, so that latest by the last week of October we can commence the registration and we will finish it by the end of the first week of November.
"We are deploying 120,000 units because we do not have time. Giving the time that we have in order to ensure a quality job is done, we believe that only option available to us is to ensure that we procure adequate number of equipment, direct captured machines, deployed them and then we used them to capture", he stated.
However, Jega assured that the commission would conduct very transparent, accountable and free and fair elections in 2011.
"I can guarantee Mr. Chairman and other members of the Committee that whatever we do we will be very transparent, accountable and there will be no problems In terms of following due process, both in the procurement and the actual deployment of resources for this exercise," he added.
Nonetheless, Jega said it is better to assume the worst and prepare for it.
"For purposes of planning given the time frame, we just have to assume the worse and we have to prepare for the worse and that means that we have to procure new machines directly with a better soft ware's and with a better component than the ones that were procured earlier on. Transportation is very important in logistics. So we've done computation on all of these, we used about four days during the retreat that we had in Uyo in other to really be very detailed in the computation of these cost elements," he further said.