Senate Drops NDDC's N236B Budget Debate Over Bogus Allocations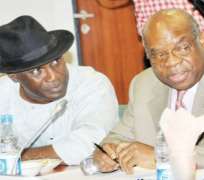 ABUJA, July 28, (THEWILL) - The Senate today suddenly stopped debate on the N236.58 billion 2010 budget of the Niger Delta Development Commission (NDDC) over a seeming bogus allocations for overhead cost and lack of full details of overhead cost.
The trouble in budget was an allocation of N12.84 billion for personnel and overhead and also the allocation of N226 billion for capital budget.
Majority of Senators during debate criticized the budget, particularly for lacking detailed projects in which the capital budget was to be applied on.
As a result the Senate President, Senator David Mark directed the Chairman of the Senate Committee on NDDC, Senator James Manager (PDP, Delta), whose committee superintends the budget to submit all the details of the budget to the Senate by Thursday (Tomorrow) for possible consideration and approval.
"We are actually hard pressed - two wrongs cannot make a right – let us get the details tomorrow and see whether we can pass it," the senate president, David mark told the NDDC committee chairman, James Manager (PDP Delta state). "It's like we are between the devil and the red blue see."
The decision to reconsider the budget with its full details was however trailed by heated debate during which some senators canvassed unsuccessfully for a piecemeal approval of the budget, while some of the Senators from the Niger Delta region called for the approval of the budget without the details.
According to Senator Manager, the NDDC committee has all the details sent to it by the presidency and will tender them on Thursday. He however notified the senate that NDDC is notorious for submitting budget proposals late.
"If the next year budget does not come by September this year, they should forget it," the senate president said. "We won't be taking their budgets outside September anymore."
The NDDC act stipulates that they submit their next annual budgets before the end of September of the current fiscal year.
However, some senators criticized some allocations in which some offices proposed to spend up to half a billion Naira on personnel alone.