SLAIN UNN STUDENT: FAMILY WANTS ONOVO TO WADE IN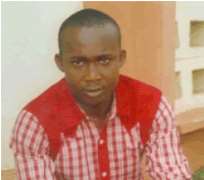 Victim
The family of a 300 level Pharmacy student of University of Nigeria Nsukka, (UNN) Mr. Jasper Okereke, who was allegedly murdered in Nsukka, Enugu State, has petitioned the Inspector-General of Police, Mr. Ogbonna Onovo, over alleged poor handling of the case by the state command.
The family has, therefore, pleaded with him to intervene in the matter to see that justice is not perverted. The accused persons were said to have been set free, even when a Magistrate Court ordered that they be remanded in prison custody, pending the trial at a High Court.
The victim's elder brother, Japhet, had in a separate petition to the state Attorney- General and Commissioner for Justice, accused the Divisional Police Officer (DPO) for Nsukka Urban of releasing the 10 suspects and the person who allegedly supplied the rope with which the deceased was strangled to death as contained in the statement of the accused.
He lamented that since their release, they were yet to be re-arrested. Japhet also alleged that during investigation, police discovered that the office of his younger brother was vandalized and looted by some people. He expressed fear that some highly- placed individuals in the state were trying to suppress the matter to prevent him from getting justice, as he was not allowed to make any statement. According to him, the policemen were demanding gratification before a statement could be extracted from him and his witnesses.
He alleged that prior to the incident which led to his death on Sunday, March, 21 2010, Jasper had gone to Ede-Oballa to confiscate a motorcycle, television sets, VCD, DVD, stabilizers, carpets and fans, from people who were indebted to him and those that were not meeting up with the hire-purchase agreements. Incidentally, when he got there the previous day the boys he had seized their collaterals had already arranged with the vigilance group in the community to lynch him. He was allegedly beaten and strangled with a rope in front of his office.
His body was said to have been taken to the police station and dumped there, untill a policeman, identified him as a student after he saw his photograph in his box. Japhet disclosed that while he was in Port-Harcourt, expecting a phone call from his younger brother, he received a call from a policeman, who told him that he had been admitted in the hospital.
His words: 'The matter, which was first reported as a robbery case at Nsukka Urban police station was later changed to murder, when Jasper was reported dead. Ten persons were arrested and later released. The DPO asked me to come back on March, 23, 2010, for briefing by the Area Commander.'
He pleaded to the Attorney-General to intervene and to see that justice is done as the family is desirous to bury the deceased soon.