CONTACT IS KEY TO SUCCESS IN OIL BUSINESS – AKUBUEZE, MD/CEO, OLIAK OIL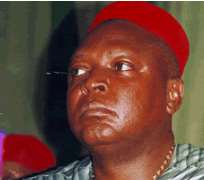 Akubueze
Chief Oliver Akubueze is a Harvard-trained management expert and Chief Executive Officer of Oliak Oil Nigeria Limited. He says one of the most important requirements for success in petroleum products business in Nigeria is the ability to make contacts.
According to him, since the nation's refineries are not functioning at optimal capacity, supplies are usually inadequate, and if one is not well-connected, his filling stations would always lack the products.
He also attributed Nigerians' opposition to deregulation of petroleum products to government's inability to communicate effectively with the Nigerian masses, adding that if government could get off its high horse and explain the advantages of deregulation to the masses, Nigerians would understand and cooperate with government.
Akubueze believes that deregulation is the only thing that could halt scarcity of petroleum products in the country, but says government should first create the enabling environment by putting infrastructure in place instead of trying to implement it by fiat or crooked means.
'I strongly believe that deregulating petrol would be in the interest of the masses because it would lead to competition and we all know that competition has a way of forcing down prices. But, where I want to differ is government trying to deregulate by fiat. It should consult the masses whose mandate it is holding. It should make sure that before it deregulates infrastructure is in place.
Government must create enabling environment before it deregulates so that we will not have a case of private operators using lack of infrastructure to unnecessarily hike the price of products or as excuse for failure. What is happening in the ports now is a typical case of a hurried hand-over of government's facility to private operators without first making sure the system is working well,' he said.
In this interview, Akubueze also speaks on the challenges of doing petroleum products business in the country, what government should do to sanitise the sector, and what makes Oliak Oil unique, among other issues. Excerpts:
My name is Chief Oliver Akubueze. I am Chief Executive Officer of Oliak Oil Nigeria Limited. I can describe myself as a management person because all my life I have been reading management. I got my Associate in Business Studies from Western International University in the United States. That was after my secondary school education in Nigeria. Later, I went to Arizona University, which is popularly known as the University of Phoenix, where I got my bachelors in International Business Management. I also did my masters degree in International Business/Public Administration in the same university, and right now I am about to complete my doctorate in Management/Organisational Leadership in Harvard University.
Inspiration to go into petroleum products business
A very good friend of mine introduced me to the business in the late 90s. His company is GG Oil, and he was then chairman of Independent Oil Marketers in Abia State. I built my first filling station in 1997 and today I have 15 of them at different locations. But before then I was into importation, but the process of getting foreign currency then was very cumbersome as you had to bid. The system frustrated me and I decided to opt out. It was then that this good friend of mine came to my rescue by introducing me to the business he was doing.
Initial challenges
The initial challenges I encountered were lack of knowledge of the business. You know that every business has its own peculiarities, but this one I had none because it was frustration that led me into it. However, I learnt on the business. The other challenge was lack of contact. What I discovered was that before you succeed in petroleum products business you must have contacts. This is because there may be times when supplies may not be enough and if you don't have contacts your stations would be left out. But, if you have contacts, you would be getting the products, at times, on credit and when you sell you pay.
Challenges of petroleum products business in Nigeria
One of the major challenges of petroleum products business in Nigeria is lack of the products. The cause of this, you and I know, is because the local refineries are not functioning at optimal capacity, and because of this we need to import to complement the shortcomings of our own refineries. You know that importation has its own challenges. You can only sell if you have products and this is the major cause of hike in price and even adulteration of products.
Elementary economics taught us that whenever demand is more than supply, prices would rise. In Nigeria, the demand is most times more than the supply. This leads to scarcity of the products and unscrupulous businessmen want to captalise on it to make money by adulterating the products. It is because of this that I bought the idea of deregulation. You know that when the system is regulated, government manages everything. It refines or imports the products, supply or distribute and also fixes the prices.
But since the refineries are producing below capacity, scarcity has become the order of the day. But if the system is deregulated, anybody can go anywhere and get the product. The only thing is that government's agency should be on the ground to check quality of the products private operators are bringing in. This will enhance competition and once there is competition the price of the products would come down. Government has not really succeeded in making the products available and that is the main cause of scarcity, hoarding, adulteration and hike in prices, but when the products are deregulated, all these hiccups would disappear, as a lot of people would come in. Then, there would be availability, which in turn will bring about affordability.
Advice to government
The advice I have for government is to be critical in taking decisions. Each of its decisions should have a human face. Government should not take decisions just to favour a few individuals. We know that all over the world governments are divesting from doing business. But it is not a decision to be taken overnight or to favour a few people.
Before such decisions are taken, sensible governments make sure it had created an enabling environment for private operators to operate without much hiccups. Government makes sure there are infrastructures and that facilities are working. This is because it is in control of the country's budget and whatever it feels it does not have the capital to do, there is no way a private operator can have the capital to do it.
That is the idea behind the public, private participation, which some state governments have embraced, and it is working for them. Coming to the oil sector, right now, the refineries are not working. It is my candid opinion that instead of selling them at give-away prices, government should fix the refineries and sell them profitably to private operators.
Why we are unique
Management and products of Oliak Oil are unique because we operate with international best practices. We are certainly not another run of the mill oil company. We have a name to protect. We have got to the top of international business and as such we make sure our products and services match our pedigree and name. We sell our products the way we get them from NNPC. We don't get involved in arbitrary increase of prices. We play by the rules. We are sticklers to the rule.
I have taught my managers that the best way to make money is by volume. Even if it is one naira they are making per litre they should stick to it instead of exploiting people or doing other things that are not lawful in order to make money. And today, it is working for us. People leave chains of filling stations to come and buy from us because they know that if they buy at our stations nothing will happen to the engines of their automobiles and other components.
Vision
The vision of our company is human focus. We see ourselves as being in business to serve the masses. That is why we make sure we don't exploit our customers. We sell at official prices and we also make sure we go the extra mile to make the products available, and even when we go the extra mile, we still sell at government-approved prices. As I said earlier, we are not profit-conscious but service-conscious because we are people-driven. Again, we are hoping that when the refineries begin to work in full capacity we will continue to make our services better.
Management philosophy
My management philosophy is also people-driven. I strongly believe in delegating responsibilities. I am of the belief that human beings are at their best when they are given opportunity to express themselves and their abilities. So, I like to delegate responsibilities. Another thing is that I am a very good team player. I believe in teamwork.
I am always hands on and that is my own way of showing example to members of the team. As I said, I built my first filling station in 1997 and now our filling stations are in two digits. This was due to effective management and grace of God. Once I do my business analysis and put in the strategies to achieve my objective, I put people to work because, as far as I am concerned, in business, customer satisfaction is everything just like in football where goals are everything.
Corporate Social Responsibility
We are deeply involved in corporate social responsibility and I believe any company that is making profit should be involved in corporate social responsibility because it is a way of saying thank you to your host community. Anywhere my filling station is located, I make sure I source my labour from there. I make sure we get involved in developing the community. I also donate to the less privileged, churches, town unions and other laudable projects.