JONATHAN'S PRESIDENCY NORTHERN THREAT EMPTY – NWITE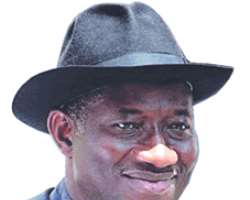 Jonathan
Controversies generated by President Goodluck Jonathan's perceived presidential interest in the 2011 elections took a new turn yesterday when the presidency called the bluff of the North. Northern governors on Tuesday failed to endorse Jonathan for 2011 presidency.
The North has so far, not given any definitive endorsement of the project. But Senator Polycarp Nwite, Senior Special Assistant to the President on Political Affairs, has dismissed the threat from the North as 'empty', advising that they should shed the toga of the past and embrace the future.
Nwite, spoke on telephone with Daily Sun. He described the current position of the Northern governors on zoning as 'self serving,' and at variance with national interest and dictates of dynamism.
'In politics, the fact is that people take positions that is vantage to them. If you look at the United States of America, Clinton comes from Arkansas, one of the smallest states in the country but he became President. The fact of where he hails from did not reduce his powers or stop him even from re-election for a second term. The Presidential aide chided the North for holding on to the erroneous and misleading belief that there are no ethnic minorities in the North.
'It is not just Hausa/Fulani that exist in the North. There are other ethnic groups there. Why have they not been able to produce the President over these years. We have overgrown ethnic nationalism in this country. What we need is a visionary leader and he can come from anywhere.'
On the threat, that the ruling Peoples Democratic Party (PDP) would die if Jonathan contests in the elections, Nwite said it was a non-issue as those who were issuing the threats lacked the necessary support base.
He said, the North had outgrown much of its proclivities, as it was now at par with the South in terms of education and enlightenment, and wondered how one ethnic group, would railroad, other minorities in the region into their own desires without raising dusts.
'The North or Hausa/Fulani can't determine who becomes President. Time has gone when someone will sit down in one place, take a decision and force it down the throat of others. The Northern ethnic minorities can also produce the President. They are many, and I tell you that if they come together, the Hausa/Fulani cannot match them.'
He spoke on some wide insinuations of mass desertion of the PDP for the All Nigeria Peoples Party(ANPP).
He described the threat as empty.
'You can't threaten the whole country, just because you're ambitious. Sokoto was not the biggest emirate in the North, yet the Sultan ruled the North from there.' He sued for national understanding and co-operation, saying that the country stood to gain from it.