I shed tears when my husband proposed to me —Ufuoma McDermott, actress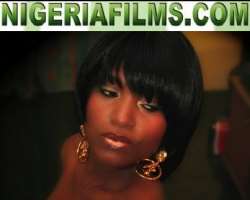 Ufuoma McDermott (Nee Ejenobor) is one of the scandal-free Nollywood actresses. Her prominent role in My mum and I as Mrs. Lillian Right stood her out. She was the face of GLO for four years but was not chosen as a Glo ambassador because she is not an 'A' list actress. Glo had a projection for their brand and chose 'A' list actors and actresses.
Recently, McDermott was nominated for the 2010 "Monte-Carlo Television Festival Golden Nymph Awards" last month. Initially, when her producer, Debora Odutayo mentioned it to her, she felt reluctant. But when she discovered through the web that she was nominated alongside Hollywood big names like Tina Fey, January Jones, Jane Krakowski, Alec Baldwin, Steve Carrel and Forge Garcia, excitement took over reluctance.
At Monte-Carlo, Ufuoma share red carpet with John McCook of the 'Bold and Beautiful', Roger Moore, Simon Baker, 'The mentalist' Taye Diggs, Judith Benz and Prince Albert 11, the Prince of Monaco. Nothing could be more exciting for the delectable actress. She felt on top of the world. According to her, the nomination alone was enough to make her happy.
Describing this year as her year, McDermott, who still maintains her maiden name because it has become a brand, spoke with Saturday Sun on her nomination, forthcoming award, Nollywood and her marriage to her English beau, Steve McDermott.
Why do you still bear your maiden name Ufuoma Ejenobor even as you are legally married to Steve McDermott?
I am Ufuoma McDermott, but I am still Ufuoma Ejenebor because we agreed that I still keep the name that I used to build a brand. We have documents that read Ufuoma McDermott.
How did you meet your husband?
We met through a mutual friend, Michael. He was my husband's friend before he became mine. When we met, we got quite closer until we walked down the aisle last April.
What attracted you to your husband?
We were friends for a year before we dated for two years and got married. We have known ourselves and grown on each other.
Are you one of those Warri girls who like to marry foreigners?
Not at all! A lot of people who know me will be wondering how this happened, but I cannot explain it. I am not a racist, so I don't have anything against foreigners. It was not like a dream or a look-out for me. It just happened.
How did he propose to you?
He asked me to meet him in Cape Town, which I did. He proposed while lying down. Tears rolled down my cheeks.
How is life as a married person, an actress and a model?
I still give my husband a lot of credit when it comes to supporting me. He is honestly very supportive to what I do. It is not because I am his wife, it is just his nature. He supports what you do. Even if I want to change to another profession, he will support me.
Yes, life has changed, but it is just for you to know that you are stuck in a particular place forever. I think the difference for me is that when we were just dating, I could easily leave in anger when he offends me, but right now, when he offends me, we better make up. You know you are stuck with this person for the rest of your life, so you better make up. Again, I have to take a lot of permission when I want to go to places.We are just two easy-going people who take things very easy.
Tell us about the "Monte Carlo Golden Nymph" nomination
I was really excited when my producer told me about the "Monte-Carlo Golden Nymph" which was held on June 10. I was nominated for the best actress in a comedy series for My Mum and I. Initially when they told us about the nomination, I was just there; it was the 50th edition of Monte-Carlo TV Festival Golden Nymph Award, which is usually held at the closing ceremony. When I logged on the website and saw the names that were nominated, that was what blew me away. That was when I began to give it the kind of weight I gave it. It made more sense when I actually travelled and I had the opportunity to share the red carpet with Roger Moore, John McCook, Judith Benz and others.
How has that experience impacted on your acting life?
Some of the things I realize would help us in the industry is to try and have continuity. Imagine having an award that has run for 50 years. Fifty years is a long time, and then you see people we consider in the biggest movie industry in the world from Hollywood gracing the Red carpet in Monaco. It meant a lot for me.
In terms of production, maybe not quality, we are ahead of France. There is no reason why France can hold this kind of big award and we can't. I think we actually have all it takes to hold it here in Nigeria. Maybe, we have not put our mind to it. If we do, we can. A lot of things are going wrong in this country now. People will take money from sponsors and would not do what they are supposed to do.
We have other people coming up with dreams and then such dreams are dashed. But I still believe there is that possibility of doing it. Look around you. What are we talking about?What does it really take for us to bring stars from all over the world and give them the kind of security they need?
It's just corruption that would not let us see beyond our nose because every thing is here. The machinery are on ground. I might be wrong but that is what I believe. We are still carried away with myopic things. Everybody is selfish. The award was fun. It was fantastic getting to see the real Hollywood stars, toake pictures and share the same hall with them.
I did not win that award, but I think the nomination was enough honour.
How has the experience of such a big event impacted on your role in "My Mum And I'?
If they had told me that My Mum And I' would go that far, I would not have believed it. The other nomination I had at Terra Kulture is also from My Mum and I and it taught me one thing- whatever you find yourself doing, give it your best. When they asked me to play Lillian Wright, a 38-year-old woman with a 17-year-old son, I thought they were joking. Then I was 27, so I wondered how I would play the role of a 38-year-old woman who was supposed to progress and celebrate her 40th birthday party. I found it very difficult to get into that role but I got help from the producer who is also a mother. I think what the people saw was that transformation from 27-year-old Ufuoma who fitted into a 38-year-old Lillian Right. When people see me in real life they wonder if I am the one in My Mum And I.
When they told me about the nomination and the grandeur that is associated with it, it taught me to do my best. I took that up because at one point, Nollywood was experiencing a shift. I told people that we are experienced our own economic crisis before the economic melt down. When I heard about My Mum and I edition, I went for the audition and got the role. Giving one's best in what you do is the best thing. That role in My Mum and I has taken my name to international scene. The lesson is, no matter how little, give it your best.
What are looking up to next?
Uche Jumbo once told me that sometimes the destiny we all seek is right in front of us. A lot of people are scared to grab that destiny while some others think it is not there place to grab it. I realize that for Nollywood to go to the next level, we need the critics in the industry. I personally appreciate critics because it pushes us to improve.
Again, I think that the things that we need come from inside. We have well respected people who criticize the industry and I encourage them to come in and be part of it. That is the way the Monte-Carlo make me feel. It's not enough for one to sit down and wait for a producer to call you. We have to take it to another level. It cannot be business as usual. We need to be recognized out there. There is no reason Germany, Russia, France, other entertainment industries would be mentioned and Nigeria will not be prominently mentioned. Even my producer learnt one or two things from the producer's course she attended.
What other award are you dreaming of and why?
It's the Oscars. Oscars is film award and not television. Today, the United States of America is the biggest producer in terms of budget, equipment, and payment. They have the Film and TV festivals that are the oldest in the world. I tell people you cannot beat them. The age difference is a factor. That is the edge Hollywood has. They started before the rest of the world. They have the oldest industry in film and television. The world sees them because they are in the centre of the stage. The whole world looks up to them and that is why their films could sell $25m. All the people who are making it big in other parts of the world are not being recognized as the ones in America. They are celebrated when they are coming from America. What America does to you is to put you in the centre spotlight. I am sure a lot of my colleagues are looking towards having Oscar in their hands because it is the highest honour in the land.
Any low moment in Nollywood?
The low moment I have is with myself. I gave myself a high target and hoped to make good achievemens in five years. I hope that I should have done a Hollywood production, not just gathering a few people and going to a neighbourhood to shoot, I mean the real 'Hollywood production'. I believe that when I give myself the peak, if I fail, it probably will not be at the end of the mountain, which is why, with everything I have now, I feel, I am not 'A' list in Nigeria, but I have attained that much on international scale. Even as a model, I have been on international pageant to represent the country. As an actress, I have been on international stage being nominated alongside Hollywood actors. I still think there is more I could achieve. It's been a wonderful year for me. In January, I had my convocation for my Master's programme. In February, I got the nomination for the Golden Nymph award, got married in April and went for the Nymph award in June. Again, I am up for another best actress nomination at the Terra Kulture award. In all, I think God has been gracious to me.
Who are your role models in the industry?
I do not put my eggs in one basket and the reason is very simple. Sometimes you can get carried away with someone and would not know when to separate the goods from the flaws. So many people have given me the opportunity and chance. There are lots of people I look up to in the industry. I can't mention them because it will be too long.
Favourite food
I love yam. In all its form- roasted, cooked, fried, pounded and okro soup.
Tell us about the job you did for GLO
It was a modelling job, but what I have now is an endorsement based on my capacity as a celebrity. Then, I had just started acting in 2004. My work was not even out as an actress when I was invited and I just did it as a model. The contract was for two years and at the end of that two years it was renewed for another two years in 2009.
Why were you not chosen as one of the GLO ambassadors?
I was not chosen because they did it with 'A' list and I am not 'A' list. They had a projection for their brand and that was why they selected the people they did.
Talk about the scandals that rock Nollywood
We should understand that actors and actresses are human beings who are not above mistakes. We cannot deny the fact that once in a while, we cross the line. We do or say what we should not do or say. The manner I weigh people is that you are not a thief because you stole but you are a thief because you steal. If you make one mistake, you should not be crucified because you are human. There are other people in other professions who are affected in this situation just that they are not celebrities. All I have to say is that we are human beings who are also fallible.