Goodseed Daily Devotional 29th September 2022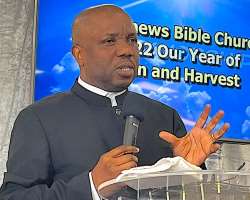 Apostle George Amadi (Lead Pastor: Goodnews Bible Church, London)
Topic: STOP THE HAND OF WICKEDNESS
TEXT: ACTS12:1-11
Vs1 Now about this time Herod the king stretched forth his hands to vex certain of the church.
Take note of the following
What is the hand of the wicked?
1.is a hand programmed from the pit of hell to kill,to steal and to destroy our life.Acts12:1-2,John10:10.
2. a hand organised by your enemies to arrest God's Glory out of your life and put you in the prison of limitations.fear and sickness Acts12:4,Acts16:23-26,Psalm 27:2.
3.are powers of the enemies that want to turn,his blessing in your life into sorrow.Matthew 13:25,Proverb11:11.
4.are powers of darkness organised to keep God's people in bondage.Exodus 8:1,Exodus 9:1.
Categories of hands of wickedness
1.Environmental hand of wickedness Acts 4:16-18.
2.Familiar hand of wickedness Psalm41:9.
3.Spiritual hand of wickedness Ephesians 6:10-14.
Ways of stopping the hand of wickedness
1.Accept Christ as your lord and saviour Roman 10:9-10,John1:12 salvation stop the hand of the wicked, from prevailing over you as believers.also,salvation introduce you into the power of God.Roman 1:16,John1:12.
2.Value the Presence of the holy spirit and be filled with the holy spirit Ephesians5:18,Zech2:5.when you are filled with the holy spirit, the throne of power come to reside in you.Acts 1:8,John7:37-39.
3.Be a prayerful christian Acts4:31,Ephesians 6:18,luke18:1.
In Conclusion:whatever evil hand of wickedness you fail to stop in life, will stop you from becoming great and to enter your inheritance.the scripture say we aren't ignorance of the diverse of the wicked,many colourful destinies has been ruined by evil hand of wickedness,may you not be victim by his grace and mercies.
PRAYER:
1.lord i command every evil hand of wickedness, working against my progress and success to be destroyed in Jesus name, amen.
2.father cause the evil monitoring hand of the wicked to turn back and work against them in Jesus name, amen.
Goodseed Daily Devotional is the publication of Apostle George Amadi- Senior Pastor Goodnews Bible Church London. If you are in the London area do worship with us at 2nd Floor Unit 4 Westmoreland House Scrubs Lane White City NW10 6RE