Flex escapes assassination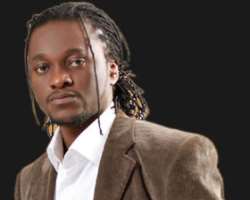 Shortly after his arrival from a musical tour of Switzerland and South Africa , popular singer and Chief Executive Officer of Samba Unit Records, Charles Adedeji, a.k.a. Flex, has escaped an assassination attack.
Flex escaped the attack by whiskers over the weekend on his way home from one of his studios in UniLag where he had gone to record the album of Ernest Asuzu, an artiste on his label. He was attacked at about 11:30 P.M on the 3rd Mainland Bridge by two guys and a lady carrying AK 47 riffles.
The dread-locked wearing entertainer gushed that but for divine intervention he would have been dead by now.
According to him, "the whole thing was like a movie scene. I can't actually comprehend the fact that it
wasn't a dream, but I thank God for His grace." Continuing, Flex, who had since gone into hiding said "the only thing I noticed was that their vehicle had been trailing me and one of them was actually waving at me. I also waved back, thinking that they were my fans.
But to my surprise, as I approached the bridge, they crossed me with their jeep, and
immediately, I saw the lady among them raising the riffle. And it dawned on me that they were not my fans, so I reversed my vehicle with speed while they did the same.
"The James Bond race continued for almost a minute before I change my gear and drove off. And because the car I was driving was the latest Lincoln Navigator, of course they could not catch up with me again. I just thank God for saving me."
In the words of Red Eye, another artiste under Samba Records, "the tension here is high now because this is actually the third time that one of us is experiencing such occurrence. It is unfortunate because we can't imagine why anybody will be after us."