Ayanbinrin, SSP want to groom new talents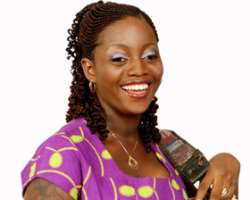 Nigeria's celebrated queen of drums, Tosin Olakanye, a.k.a Ayanbinrin is stepping out to groomher successors even as she was recently crowned the queen in the house of the forthcoming Fortune Instrumentalist Talent Show(FITS). The talent show promises to be exciting and seeks to take the country's music back to the root.
Ayabinrin will be working with Afro-Juju creator king, Sir Shina Peters who was equally appointed the king cum ambassador of the talent show.
At the unveiling of the musical talent hunt show that is being powered by D. Board Media, in Lagos, Ayabinrin took out time to talk about the project, her reasons for accepting to be part of it and her musical career.
Ayanbinrin said, drumming comes to her naturally, having been born into a family of artistry.
According to her, her interest in Fortune Instrumentalist Talent Show is to I'll help discover and groom stars by teaching them how to play musical instruments and grooming them on how to be good musicians and instrumentalists. "We are going to correct so many wrong things about our music with FITS" she said.
Forty eight selected contestants drawn from across the country will be trained by a team of seasoned musical icon in a natural setting in the rudiments of music making.
The regional auditions will hold in Ibadan, Lagos, Benin, Enugu, Port Harcourt, Calabar, Abuja, and Kaduna respectively. The star prize for the first team is N6m and a recording contract worth N5m, while the first runner up team will get N3m and the second, N1.5m.
The choice of Ayanbirin as a partner and queen of the show is based on her ability to combine Alujo, with modern day talking drum.