September 27, 2022

| Golf
Golf: Lesch Secures Pure Insurance Title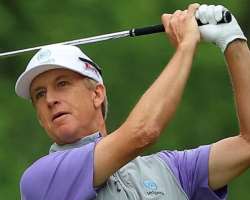 Steve Flesch fired home a 4-under 68 and birdied the 18th hole to win the Pure Insurance Championship in Monterey Peninsula, California.
Flesch carded six birdies and two bogeys at Pebble Beach in the third and final round of the event, finishing with an 11-under-par 205, one stroke ahead of the three second-place finishers.
The victory is Flesch's second of the season after he won the Mitsubishi Electric Classic back in May.
"It meant so much more to me because every pro wants to win at Pebble Beach and it was just a lot of fun. I hung in there all day, I got off to a great start, but winning at Pebble Beach I think is every professional golfer's dream," Flesch said after the match.
"You don't get many opportunities to win. But I got an open door when Steven gave me a chance on 18 and hit a great wedge shot in there. It ran the put in," he continued.