Goodseed Daily Devotional 27th September 2022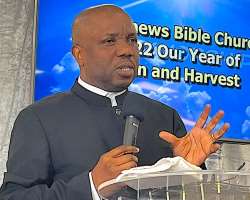 Apostle George Amadi (Lead Pastor: Goodnews Bible Church, London)
Topic: GOD IS MY STRENGTH AND POWER
TEXT:2SAMUEL 22:33 KJV
God is my strength and power: and he maketh my way perfect.
I wish to bring to your notice, God is our source to be strong at all state and issue's in life. Stay connected to God to remain empowered to make your way perfect in life.
DO THE FOLLOWING.
DWELL IN THE PRESENCE OF GOD ALWAYS .
DEPEND ON GOD FOR EVERYTHING.

3.KNOW THAT HE WILL PERFECT YOUR LIFE.

DON'T DEPEND ON ANYONE BUT GOD.
IN CONCLUSION: Fix your mind on God continually for His strength and power is not limited but men's promises and strength is limited. If you will make it know that your strength comes from God and not men. God is our source.
PRAYER:
Oh Lord, thank you for strengthening me in all I have been through in Jesus Christ name, Amen.
Oh Lord, help me to fix my eyes on you continuously in Jesus Christ name, Amen.