DANGOTE HITS NIGERIA'S 2010 SUPERBRANDS LIST AGAIN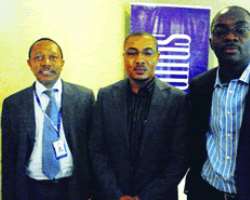 L-R: Mr Chiejina; Project Director, Superbrand,  Maxwell  Marshal; and  Head, Brand Management, Dangote Group, Mr Oge Udeagha; during a press conference on 2010 Nigeria Superbrands held at Sheraton Hotel, Lagos recently.
The Dangote Group, one of West Africa's leading industrial conglomerates, has again emerged as one of Nigeria's super brands, in the 2010/2011 listing of the strongest performing brands in Nigeria, by Superbrands Nigeria.
In a letter to the Dangote Group, the Project Co-ordinator of Superbrands Nigeria, Mr. Maxwell Marshall, stated that Dangote has earned the trust of the consumer and has clearly distinguished itself in the cement, flour, pasta, salt and sugar categories.
He disclosed that the group met the stringent Superbrands criteria as captured in a nationwide consumer survey conducted by Nielsen; the result of which, as well as the selection from the premium and business-to-business categories, were ratified by the Superbrands Nigeria Council.
Reacting to the development, the President/Chief Executive of the Dangote Group, Alhaji Aliko Dangote, described it as the culmination of the hard work, resourcefulness, and commitment of staff of the group in putting the consumer front and centre in all its undertakings.
'One of our core brand values as a group is to be customer-centric. We continually seek to ensure that the consumer drives our everyday operations, from research and development to sales and marketing. We are gratified to note that our numerous consumers are keeping faith with our product offerings. As we make plans to make Dangote a global brand, we pledge to work even harder to retain the confidence and support of our consumers in Nigeria,' he said.
The Group Head, Corporate Communications, Tony Chiejina, described the listing as a fitting recognition for a company that touches the lives of people in Nigeria every day in many different ways. He stressed that the Dangote Group, as the most diversified manufacturing conglomerate in West Africa, is very appreciative of the role of its Nigerian consumers in helping it achieve that position.
The Group has maintained a steady rise in brand stature, and has been on the list of the strongest performing brands in Nigeria for three years in a row. It recently commenced cement imports into Ghana, and is implementing a pan-African expansion programme that will include the coming on stream of production assets in countries such as Zambia, Senegal, Ethiopia, Cameroun, South Africa, Tanzania and Algeria.