American Airline orders 20 Boom Overture supersonic jets, that can fly from New York to London in three-and-half hours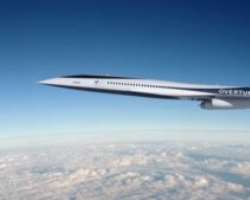 Aiming to become the world's largest operator of supersonic aircraft fleet, American Airlines ( A1G ) ( AAL ) has signed an agreement with Boom Supersonic for the purchase of what will be the world's fastest commercial airliners.
American Airlines ( A1G ) ( AAL ) committed to purchasing up to 20 Boom Supersonic Overture aircraft with an option for an additional 40 jets, it announced on August 16, 2022. Showing its intent, the Texas-based air carrier said it has already transferred a non-refundable payment to the manufacturer for first 20 planes. However, it did not specify the worth of the recent deal.
According to the terms of the deal, the manufacturer must meet industry-standard operating, performance, and safety requirements, as well as other American Airlines' ( A1G ) ( AAL ) requirements, before any Overture jets are delivered to the airline.
"Looking to the future, supersonic travel will be an important part of our ability to deliver for our customers. We are excited about how Boom will shape the future of travel both for our company and our customers," American Airlines ( A1G ) ( AAL ) chief financial officer Derek Kerr said. READ MORE: United Airlines signs with Boom to bring back supersonic travel
American Airlines ( A1G ) ( AAL ) said the Overture would give it a speed advantage over rivals, cutting flight times between Miami to London to under five hours, for example. The Boom Overture will be able to reach a speed of Mach 1.7 (about 2,100 kilometers per hour) and carry 65 to 88 passengers. That speed would allow going from New York to London in three hours and 30 minutes, against six hours and 30 minutes today.
The aircraft, scheduled to start operating in 2029, is projected to fly on 100% sustainable aviation fuel (SAF). According to Boom Supersonic, Overture will have a range of 4,250 nautical miles.
The order comes over a year after an announcement of a similar deal between United Airlines and Boom supersonic. In early June 2021, United committed to purchasing 15 Overture airliners, with an option for 35 more aircraft.
The manufacturer revealed the final production design of Overture in July 2022 during the Farnborough Airshow, and also announced it would look at military applications for the jet.