No Automatic Ticket For Orji - PDP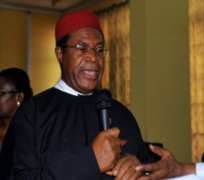 ABUJA, July 27, (THEWILL) - The Peoples Democratic Party (PDP) last night in Abuja tactically informed Chief Theodore Orji, Abia State Governor that his conditions for joining the PDP, which included the party's Governorship ticket for 2011 elections was not automatic.
Consequently, the party told Governor Orji to adopt strict participatory democracy and value for the party's long-preached internal democracy even as he was advised to declare Aba a disaster area and start substantial infrastructural development in the city.
The party gave him seven days within which to end all deliberations if he actually desires joining the ruling party or else there would be no deal.
A source told THEWILL that there will be "No automatic tickets, as everybody has the right to run for any office. That the PDP would retain the State chairmanship and 60 percent of the state executive, that the PDP will also nominate 60 percent of commissioners, local government chairmen, boards and market executives".
Governor Orji was also asked to chose his deputy with a condition that the person must be a member of the PDP stating that all the PDP exco members that would loose their position must be given right of first refusals for any appointments.
The stakeholders also demanded that the leadership of the State House of Assembly be reorganized so that the PDP will have 50 percent of principal officers.
Present at the meeting were Minister of Labour and productivity, Emeka Nwogu, former minister of Foreign Affairs, Chief Ojo Maduekwe, former National Chairman of the party, Prince Vincent Ogbulafor, and South East Zonal Chairman of the party, Chief Oliseh Metu.
Others were, State Chairman of the party, Ndi Okereke; Vive Chairman, Solomon Ogunji; Sen. Enyinnaya Abaribe; Sen. Nkechi Nwogu; and Hon. Eziuche Ubani amongst others.
It would be recalled that the National Leadership of the PDP led by the National Chairman, Dr. Okwesilieze Nwodo had last weekend visited the governor in Umuahia, to ask him to join the party.
But Governor Orji, in his reaction asked for time to consult his followers and at the same time reminded them that he already has the ticket of the All Progressive Grand Alliance (APGA), and as such they must prevail on all aspirants to step down for him.
He also gave as a condition, the need for dissolution of the state party executive down to the ward level and for him to produce the Chairman and Secretary of the PDP respectively.
Besides he asked the party to be ready to go and beg the Ikemba Nnewi, Dim Chukwuemeka Odimegwu Ojukwu, the Chairman, Board of Trustees of the APGA.
However, a source at the meeting which was attended by all the major stakeholders said the party agreed to set up a ten-man team to negotiate with the governor's team.