Investigative journalist killed over critical stories, police allege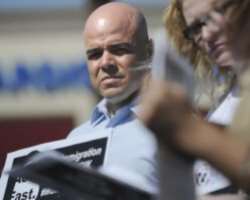 Police alleged Thursday that a top Las Vegas official killed investigative reporter Jeff German because of critical stories the journalist had written as well as a new piece he was planning to write.
Las Vegas Metro police arrested Clark County public administrator Robert Telles on suspicion of murder in the Sept. 2 death of Las Vegas Review-Journal reporter German after recovering items from the elected official's home that authorities said were worn by the killer. Police said they also tied Telles to a vehicle driven to the scene of the crime and found his DNA at the scene of the fatal stabbing.
"Telles was upset about articles that were being written by German as an investigative journalist that expose potential wrongdoing, and Telles had publicly expressed his issues with that reporting," Las Vegas Metro police Capt. Dori Koren said. "And then ultimately, Telles was also upset from what we found out later that there was additional reporting that was pending."
The slaying "has deeply impacted Las Vegas. … The killing of a journalist is particularly troublesome," Clark County Sheriff Joe Lombardo said in announcing the arrest. "We hope the arrest of Telles and subsequent prosecution will ultimately provide a sense of justice for our community and Mr. German's family."
The reporter's family members said in a statement they were "shocked, saddened and angry about his death."
"Jeff was a loving and loyal brother, uncle and friend who devoted his life to his work exposing wrongdoing in Las Vegas and beyond," they said. "Jeff was committed to seeking justice for others and would appreciate the hard work by local police and journalists in pursuing his killer."
German's body was found with multiple stab wounds Saturday morning near his house. Investigators believe he was killed a day before. Telles, 45, who publicly feuded with German, became the focus of the probe fairly quickly, police said.
"Some of the other things that were developed pretty quickly by our homicide investigators was that the suspect … was wearing an orange shirt with reflective stripes, a straw hat and was carrying a duffel bag," Koren said. Officials said the outfit was an attempt at disguise, but the suspect was caught on security cameras walking to and from the crime scene.
Koren said that German came out of the garage and went to the side of his home, where he and the assailant had an altercation that ended when the attacker repeatedly stabbed the reporter around 11:18 a.m. Friday
While working to eliminate a potential burglar or other criminals as the suspect, investigators focused on German's work and who might have had a motive to kill him.
Telles lost a primary election in June after German's stories reported allegations of bullying, favoritism and an inappropriate relationship between him and a subordinate. The county official had publicly accused German of being a "bully" and running a "smear" campaign against him.
Shortly after the first story was published, Telles wrote a blog post on his campaign website, calling the Las Vegas Review-Journal a "rightwing paper" and stating "the article was false."
"[The article] was so ugly that you almost had to believe it was true," Telles wrote. He said the allegations were false because county officials "would not have stood for it." He went on to state there were multiple investigations into "all the actors in the matter."
By June, it was clear Telles believed he would lose the election and his public office after losing in the primary to his Democratic challengers. German reported on Twitter that Telles was "losing and lashing out."
In mid-June, German again reached out to Telles for comment on the blog post for another article.
"Rob, I'm putting together another story on your office," he texted the public official, asking him for comment because employees had seen the blog post as a "threat of retaliation and have reported it to Human resources."
Telles posted the text on Twitter on June 17 and claimed the reporter "made a veiled threat to make me take down my site with the truth."
The screenshot, however, contained no request or threat.
Two days later, Telles admitted on his campaign site he fully expected to be voted out of office, and he accused German and another public official of "trying to drag me through the mud."
He followed up his comments on Twitter on June 18, the same day German published an article about the blog post being reported to the county's human resources department.
"Looking forward to lying smear piece #4 by @JGermanRJ," he tweeted. "I think he's mad that I haven't crawled into a hole and died."
He followed up: "Wife hears rustling in the trash Her: 'Honey, is there a wild animal in the trash?" Me: 'No, dear. Looks ilke it's @JGermanRJ going through our trash for his 4th story on me," he wrote on Twitter on June 18.
"Oh shoot," he tweeted. "I left a pizza box and sushi containers in the trash. In the next article, I'm going to have mob and yakuza ties," he wrote.
Days later, he continued his verbal attacks against German, calling him a "typical bully" in a June 25 tweet.
It was these articles, and more on which German was actively reporting, that officials say led to the fatal stabbing.
Investigators executed search warrants Wednesday morning on Telles' home and cars. Koren said detectives found a maroon Yukon matching the description of the getaway car in Telles' driveway. The vehicle, which was registered to his wife, left the home about 9 a.m. Friday and returned about noon, the police captain said. An arrest report indicated that after walking away from the crime scene, Telles returned, parked the SUV and appeared to search for something at the scene.
Inside Telles' home, investigators recovered a pair of shoes matching those of the suspect in a security video that appeared to have blood on them, Koren said. A straw hat similar to the one seen in the video also was found, Koren said. The chief said parts of the clothing had been cut away in an attempt to hide evidence.
Telles was not initially arrested following Wednesday's search because police were waiting to match a DNA sample taken from him with biological evidence taken from the crime scene. An arrest report later revealed that his DNA was found under the reporter's fingernails.
A special weapons team returned to Telles' home and took him into custody Wednesday evening, authorities said. Koren said he had self-inflicted wounds and needed medical treatment. Telles was wheeled out of his home on a stretcher.
Telles made a brief court appearance Thursday on a charge of open murder with the use of a deadly weapon in German's death. Handcuffed with his hands in front of him and wearing a brown jailhouse shirt and pants, he sat in a glassed-off room facing into the courtroom. His arms showed signs of bandages.
A Clark County prosecutor asked for Telles to be held without bail, adding "this was him lashing out, the defendant lashing out at the unraveling of his life."
The judge ordered Telles be held without bail, noting that German had desperately fought for his life. Police said German received seven sharp-force injuries to his neck and torso, with numerous defensive injuries consistent with trying to block a blade.
According to the Las Vegas Review-Journal, German was working on a new story about Telles the week he was killed.
Telles, who remains in office until December, has publicly chastised German.
Las Vegas Review-Journal Executive Editor Glenn Cook said German hadn't communicated any concerns over his safety to the paper's leadership team.
"The arrest of Robert Telles is at once an enormous relief and an outrage for the Review-Journal newsroom," Cook said in a statement to his newspaper Wednesday. "We are relieved Telles is in custody and outraged that a colleague appears to have been killed for reporting on an elected official. Journalists can't do the important work our communities require if they are afraid a presentation of facts could lead to violent retribution."
German was previously a longtime columnist and reporter for the Las Vegas Sun, where he covered courts, politics, labor, government and organized crime, according to his biography. He joined the Review-Journal in 2010, where his investigative work included stories on organized crime, political corruption and government failures.
He was the author of a 2001 organized-crime book, "Murder in Sin City: The Death of a Las Vegas Casino Boss," and was the writer and host for the second season of the Review-Journal's true-crime podcast "Mobbed Up: The Fight for Vegas."
Cook said German's "bread and butter" was "breaking big stories," with many of his investigations leading to significant reforms.
(Los Angeles Times)
** Robert Telles in 2014. Telles is scheduled to appear in court on a murder charge after being arrested in connection with a journalist's fatal stabbing.(Erik Verduzco / Las Vegas Review-Journal)**