PDP SHOULD CONCEDE ITS PRESIDENTIAL TICKET TO JONATHAN – MAXI OKWU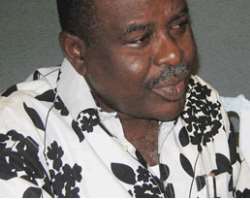 Maxi Okwu
Chief Maxi Okwu, a lawyer by profession, is the National Chairman of the Citizens Popular Party (CPP). He is also the Chairman of the Conference of Nigerian Political parties (CNPP), an amalgamation of the political parties outside the PDP.  In an encounter with the Daily Sun in Kano, Okwu expressed concern over the zoning issue in the PDP and the dangerous dimension of north/ south diatribe it is courting .
He advised the leadership of the Peoples Democratic Party to galvanise support for President Jonathan and concede the party presidential ticket to the incumbent president.
Excerpts :
May we have an insight into your mission in the state and what, indeed is your next political move in the light of the forthcoming elections?
I am in Kano on routine political consultations. This is the detail I can give for now. I am interested in an effective challenge to the PDP. I am opposed to the PDP. The PDP has not enhanced democracy in Nigeria . So, I am doing all I can, within my limited capacity, to see that there is an effective challenge in the coming general elections. This is my main mission for going round the country.
One topic that has attracted concern is the PDP zoning arrangement.
To what extent do you agree with the party leadership in its attempt to jettison the purported zoning arrangement?
Like you said correctly, that issue of zoning is a PDP arrangement. But because the party is ubiquitous, we have to be concerned. Reason? They have dominated completely the entire political scene in the states, the local government, the National Assembly and they have near a unanimity…. In fact, we are a one party state.
So, we have to be concerned until we change the picture. It is coming to a crisis state. I am deeply touched by the altercations going between the North led by people like Tanko Yakkasai and Adamu Ciroma, conservative northerners, and their counterparts in the South -South led by people like Edwin Clark, who is a maverick as far as I am concerned.
If we don't check this problem immediately, it may lead to greater crisis and danger to our democratic enterprise, if not the nation as a whole. So, as a concerned Nigerian, as a patriotic Nigerian , I am appealing to them to sheath their sword. In fact, I am making an appeal to a party I don't like, to please cede their ticket to Ebele Goodluck Jonathan.
Reason? Customarily, in America where we have continued to borrow or copy from, no party denies a sitting president ticket, except for serious reasons and I don't see that serious reasons here.
Secondly, I as an Igbo man, I believe that when Dr Ekwueme and others packaged this zoning concept, behind their mind is that it should go round. All the zones should be appeased. For now, Ndigbo has not been appeased.  We have a lot to gain by patiently waiting for our turn. It is not the best. But as a temporary measure to assuage everybody, it should go round ones, before becoming a free for all thing.
But the argument this day on zoning is that it was meant to go round North / South, not the old three regions stuff. Is this a political mischief against the Igbo people?
The truth is that inherent in the North/ South divide is the three zones each in the North and three each in the South.  It will be, for instance, unrealistic for the South-west to really look at power now because they have had their own eight years.  They were appeased.  There is need, like I tell you, to appease the Niger Delta and there is a crying need to appease Ndigbo.
So, if you leave it free for all now, it may assume some funny dimension and be viewed in bad light by some people. Let me tell you, the truth is that Nigeria is not a nation. That is number one. Number two, is that the military has left so much power at Abuja that has distorted completely the agreements reached by our founding fathers, including my late father, at Lancaster House in the late fifties.
So, one of the conditions that should be given to anybody who is going to  become president now is that, in the first four years, he must look critically  at our structure. We must go back to true federalism. If Enugu is viable, please what am I doing in Abuja ? If Kaduna is viable, please what am I doing in Abuja ? If Port Harcourt is viable, what I am doing in Abuja ? Did you see the late Ahmadu Bello coming to Lagos ? This is because Kaduna, the capital of Northern Region was more viable than Lagos .
Where do you stand? You are in support, or opposed to the zoning arrangement?
My position right now is that the death of Umaru Musa Yar Adua is a  fundamental shift. In legal parlance, an act of God has occurred. That, to me, politically is a game changer and we must address it realistically in the greater interest of the nation. Anybody from the North who goes in now will claim eight years.
So, it is a fact that the PDP arrangement has already been distorted. Even outside the PDP, if we were to look at practices where Obasanjo enjoyed  eight years for South west, how then will you tell the next president not to enjoy the Presidency for eight years? So, if anybody goes in now from say the North, where it was purportedly zoned by the PDP through Umaru Yar Adua, the person is entitled by the constitution to seek a second term. Having said that, now Goodluck  Jonathan is there. He is the defacto and the de jure president. If he desires to go further, it will be difficult for the party to deny him. Some people are just making a lot of noise and being a political animal, he may not listen to those people.
What I am thinking is that the PDP should do a lot of grand consensus for him and allow him to take their ticket, but there should be conditions attached. I hope he does not win the main elections. I hope the opposition will bring up a candidate that can challenge him. But whoever wins, either from the PDP or from the opposition, they should understand that he has four years to address the structural imbalances in Nigeria, to make Abuja what it should be: a federal capital and not a central capital.
There is speculation that IBB may seek the ticket of an opposition party, the ANPP, if denied the PDP ticket.
To what extent will ANPP followers be comfortable with an IBB, who is not of their family?
Well, I am not of the ANPP. But I will like to advise any party, except maybe the ones he created like the UNPP and NDP, to be wary of IBB. In the first place, IBB is not an opposition element, he is an establishment person. You see, being in the opposition is not that you are not in power. It is to have a different approach to governance. The progressives are not in power. IBB is a hard- core, ultra conservative. I don't recommend him to the opposition parties. He can take a ticket and try his luck, but I don't see him being that courageous enough to gamble outside the PDP, when the popular sentiment is that once you get the PDP's ticket, that you have won. I don't see him being that courageous, or that kind of gambler. If Ebele Goodluck gets the ticket, IBB will drop his ambition.
But what if  he picks one of these parties he created?
Well,  if he wants to, then let him go ahead. Like I said, I believe honestly that his ambition is a distraction. One, he has presided over the affairs of this country for so many years, about eight years. And the legacy he left will so regurgitate that it will create crisis. There are so many people who have taken an extreme view against him. I sympathize with them. I am one of those people. I think that in the best interest of Nigeria, he should reconsider his moves. He, of course, has the democratic right to seek power as a free born without any stigma to his qualification, but there is so much controversies around his person that he will over heat the polity.
He had been president for eight years as a maximum ruler; please help me ask him, ' what did he leave in the Villa?'
Some voices have argued that zoning should not be stopped because Ndigbo should have their turn too.
They recalled that the last time it was scuttled in the Second Republic, Igbo were the very immediate victims?
That is what I said. Can we allow this zoning round for every sub-region to have a taste of it? That is six times eight. If I don't get it, but my son's son is assured of it, then it is good. And all these are happening because Abuja is so powerful. With a paper, like the one given to Danjuma by Abuja , you can make billions for doing nothing. With a paper…. Just a paper given to him by Abuja, he went and collected an oil block in the Niger Delta. He made so much money and his conscience pricked him..
So Abuja is too powerful and as long as Abuja is so powerful, so long as Abuja remains as strong as it is, as a central capital and not a federal capital, let us continue to experiment with this turn— by turn otherwise called rotation. But if the person who goes in guarantees Nigerians that he will run a broad based government of national consensus on certain high points like restructuring ,like revenue allocation and more, then in four years time , you don't  to go to Abuja anymore. Enugu can be  powerful, Lagos can be powerful, Ibadan and  Kaduna.…..    and even Sokoto. And the battle for Abuja will be diminished.
Some critics have argued that rotation is in fact illegal, because it is not directly mentioned in the constitution.
Others too have said that it is conventional. As a lawyer what is your position?
Rotation is not illegal. Anybody that is saying that rotation is illegal doesn't know what he is talking about. It is a convenient arrangement to satisfy certain ends. You will recall that even the same constitution talks about Federal Character in which it states that no section of the country should assume or dominate… that no section or group of states should so dominate the federation as to annoy or injure others.
So, if a party seeking power should decide to use a mechanism to make it go round, well and good. It is within the confines of the constitution. Secondly, Nwodo, the Chairman of the PDP was made the Chairman because the chairmanship was zoned to the South- east. David Bonaventure Alechenu Mark is the Senate President because Senate Presidency was zoned to the North -central. So you must split these things round to give everybody a sense of belonging.
You have been associated with the aspiration of Governor Shekarau of Kano State. Is this fraternity still subsisting?
Let me put it this way. We have been here on a number of occasions in which we backed his candidature and encouraged him to aspire and seek his party's nomination. We believe that he has performed in Kano, we believe that he is a credible Nigerian.  I am of the view that we need the governors. Yes, governors, not of the PDP, to come together to facilitate the progressive platform. And looking at his pedigree, looking at his credentials, a poor civil servant  who against the run of play defeated money bags even when he is not of the PDP- I am excited about him- and I still believe he should run.
I believe that he has remained true to the party, ANPP, where there is a lot of drain. A lot of people have continued to move away from the ANPP, going back to the PDP. He has now, since we last spoke, publicly announced that he will seek his party's nomination and I urge his party to give him the party's nomination and I believe that he will be a strong candidate in the poll.
Looking at the high hopes vested on the appointment of Prof. Attahiru Jega, do you think that he can give Nigerians a credible election in 2011?
I sympathize seriously with Jega. His pedigree is sterling. His credentials cannot be questioned. But please, a tree cannot make a forest. I take his appointment with a cautious optimism. On the day of elections, Attahiru Jega, no matter how well meaning his intentions may be, he will not be at ward 3 where I will be. There will be one person called the presiding officer who holds the fate of that booth and invariably, he may be a member of the PDP……..once the havoc is done at that base, the polling units, there is nothing much you can do at the centre or in Abuja.