ATIKU HAILS THEM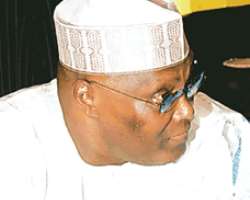 Atiku
Former Vice President Atiku Abubakar has commended the courage of the Northern Governors in supporting the zoning policy of the Peoples Democratic Party (PDP).
Atiku described the outcome of the governor's meeting in Kaduna, Tuesday as a demonstration of uncommon courage and patriotism, according to a statement released by his media office in Abuja yesterday. By voting overwhelmingly for zoning, Atiku said the governors have given all segments of Nigeria a sense of belonging.
'The zoning policy protects minority groups against domination by the majority,' Atiku said.
'In a country as heterogeneous and complex as Nigeria, the zoning policy will ensure fairness and equity in the distribution of political offices'.
The former VP said it was sad and unfortunate that the issue has been politicized by dishonest and selfish politicians.
'We must cultivate the culture of honouring agreements in this country. We will not make progress in this country if our actions are driven simply by convenience,' he noted.
He called for a closure on the zoning debate and advised state and federal governments to devote their energies and resources to real governance.