SCOUTS DISTRACT FALCONETS – PETERS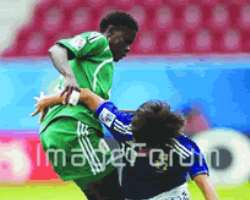 Falconets star Iwabuchi.(l) in action against Japan
Officials of the Nigeria Fooptball Federation (NFF) have been having hectic time trying to stop football scouts from getting to Falconets, Nigeria's women team to the Under-20 Women World Cup in Germany.
The scouts, according to James Peters, who were mainly from Sweden, Norway, Germany, England, Denmark and Costa Rica have besieged the Martini Hotel camp of the World Cup semi finalists. They, however, met a barricade mounted by the NFF officials who turned them back. "These scouts are a big distraction to our resolve to reach the final, so we are resisting them with all our might', Peters said.
'The strategy is to remain focus and edge out Colombia on Thursday.
'All intruders would not be allowed to see the players until after the competition". said Peters, who is the assistant general secretary, technical.
The players who are bubbling with confidence seem unstoppable in their quest to clinch the trophy this time round. According to the media officer of the team, Abdulbaki Ibrahim, NFF has boosted the morale of the players with their winning bonus increased fom $750 to one $1,000 for the quarter final victory.
"From this stage henceforth, the bonus will keep increasing", said Mr. Stephen Gyebgon, Vice Chairman of NFF's Women Football Development Committee. Falconets are scheduled to have a feel of the turf at the 23,000-seat capacity Bielefeld Stadium on Wednesday.