2011: MARK CAMPAIGNS FOR SHINKAFI'S RE-ELECTION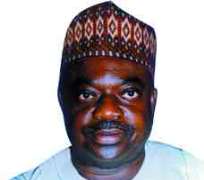 Governor Mamuda Aliyu Shinkafi
The Senate President, David Mark has solicited support for the re-election of Governor Mamuda Aliyu Shinkafi in 2011 governorship. Mark, who was conferred with the title of Zaruman Kaura Namoda in Zamfara State, also assured people of the state that the ongoing Kaura Namoda- Gusau road and other Federal Government projects in the state would soon be completed.
He gave the assurance while being turbaned as 'Zaruman Kaura Namoda' by the Emir of Kaura Namoda, Alhaji Muhammad Asha.
He said the turnout of the people in Kaura Namoda town was an indication that the people were solidly behind the government and the National Assembly members from the state.
The Senate president said he was impressed with the level of development in the state and urged the people to vote en-mass to re-elect Governor Shinkafi and all the members of the National Assembly from the state for there to be continuity in development of the state.
He also thanked the emir for giving him and his colleague, Senator Sahabi Yau, the traditional titles in recognition of their contributions in the National Assembly.
In his remark, Governor Shinkafi, solicited the support of the National Assembly in completing all Federal Government projects for the state to have meaningful development.
Shinkafi described the recipients, Mark and Ya'u as respected and committed gentlemen whose major preoccupation was to see to the development of the country.
Earlier, Senator Sahabi Ya'u had described Senate President David Mark as a true nationalist whose tenure in the Senate has been bringing development to the country.
He said the National Assembly would continue to ensure that the people of the country enjoyed the dividends of democracy.
The Emir of Kaura Namoda, Alhaji Muhammad Asha said the emirate decided to confer and turban the Senate president and Senator Ya'u for their good leadership and initiatives towards the development of the state and the country.