2011: I'LL WORK FOR JONATHAN IF… – OBIGBO LEADER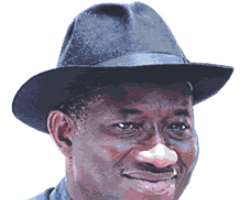 President Goodluck Jonathan
The leader of Igbo socio-political group, Obigbo, Chief Charles Ahize has promised to work for President Goodluck Jonathan's presidential bid in 2011. However, the businessman-turned social commentator hinged his support on the president's assurance to convene a sovereign national conference after his election.
Speaking with Daily Sun in an interview in Lagos, Chief Ahize said: 'Nobody has a right to tell Jonathan whether to contest the presidency next year or not. It is within his constitutional right to contest if he wants to. Why won't Jonathan run? Why is the North complaining? Is he not a creation of the North? Jonathan must run for the presidency. It is his inalienable right to contest if he so wishes. However, I will only work for his election if he promises to convene a sovereign national conference during his tenure.'
According to the Obigbo leader, the present contentious zoning arrangement had its roots in the last constitutional conference where former vice president, Dr. Alex Ekwueme, canvassed that rotational presidency be enshrined in the constitution. 'The same North that is crying foul now, fearing that such arrangement would likely produce an Igbo president, fought Ekwueme and shot the proposal down. Instead, they created the six geopolitical zones, willfully neglecting to do the right thing because Ndigbo must be stopped.'
Chief Ahize said it was 'ironical that the same North is crying now because their own creation has come back to haunt them. What goes round must come round. They used the late Ken Saro-Wiwa to fight Ndigbo and seize their property in Port Harcourt after the civil war, declaring such as abandoned property. Years later, this same North killed their comrade in hatred for the Igbos.
'They created the south south zone to spite the Igbos and today, the south south youths have carried guns, aiming it at their heads. Now they are begging and flying them to Abuja in presidential jets. You cannot bring Ndigbo down and expect to move forward.
Zoning arrangement between the north and south was a contraption by a cabal to put the Igbo man down but it cannot work. Whosoever rises against the Igbo man ends up paying heavily for it.'
Ahize, however, could not hide his disappointment that Nigerians were busy talking about zoning or no zoning without asking the people aspiring to be president to unveil their manifestoes, containing their projects, policies and plans for the nation.
'It is a shame that 50 years after independence, Nigeria is still playing ethnic politics in 2010. You don't talk about this in Ghana or South Africa,' he said, adding that he wished God would exterminate 'all the wicked and corrupt leaders holding Nigeria down.'