…EX-INTERNATIONAL, UGBADE, SAYS LAGERBACK SHOULD BLAME HIMSELF FOR ACCEPTING TO TAKE NIGERIA TO WORLD CUP IN SOUTH AFRICA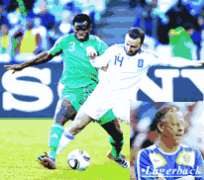 Golden Eaglets' former captain, Nduka Ugbade, has blamed Swedish Coach, Lars Lagerback, for accepting to lead Nigeria's Super Eagles to the recent FIFA World Cup in South Africa. The former international, while reacting to Lagerback's decision not to return to Nigeria after the country's World Cup woes, said the coach made a big blunder by accepting to take up the Eagles' job with a short period of time remaining before the Mundial in South Africa. He said that it was only a magician that could risk his career for such an unpleasant offer.
Speaking with Daily Sunsports on phone, Ugbade said he was not surprised by the coach's decision to dump Nigeria now because he made a bad impression as a world-class tactician with Eagles' poor outing in South Africa.
According to him, Lagerback met catalogue of problems in Nigerian football during the World Cup preparations, yet he decided to play along without considering the fact that it might eventually dent his image.
Before Lagerback's arrival, there was confusion after the sack of Coach Shuaib Amodu on who would lead Nigeria to the World Cup. There was a lot of drama by football officials, who were engulfed in the allegation of bribery and corruption during the process of hiring a new coach for Eagles. Then, the Glen Hoddles' gate was another issue that would linger in the minds of many football followers for a long time to come.
The world witnessed so many soap opera in Nigerian football when the Sports Minister, Ibrahim Bio, used his good office to save the lives of promising footballers from a possible plane crash, when the team had a flight hitch on it way from London to South Africa for the World Cup proper. The same minister relocated the team from a sub-standard hotel, when he went on inspection visit to the proposed Eagles' camp in South Africa.
To crown it all, the team recorded poor outing at the World Cup, and this was followed by the impeacheent of three bigwigs of the Nigeria Football Federation (NFF), Alhaji Sani Lulu, who was the football house president, his vice, Amanze Uchegbunem, and head of technical committee, Chief Taiwo Ogunjobi.
Ugbade said if he were in the shoes of Lagerback, he would not have taken the Eagles' job in the first instance, at least, to keep his reputation intact.
'Nigerians don't need to watch television for drama, our football is enough to make people smile. I heard that Samson Siasia has been offered the Eagles' job, and at the same time, Austin Eguavoen was asked to lead the team to Seoul for a friendly match against South Korea. What is the meaning of that?' he asked.
Meanwhile, Lagerback received a vote of confidence from the NFF. The Swede was, even while on holidays after Nigeria's poor performance at the World Cup, offered a contract extension, but he turned it down.