DAYS OF 'MIRACLE CENTRES' OVER IN EDO STATE, SAYS EDUCATION COMMISSIONER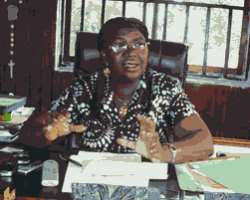 Dr. Ngozi Osarenren
After Comrade Adams Oshiomhole was sworn into office as Edo State governor in 2008, he chose some lieutenants to help him effectively run the state. One of them was Dr Ngozi Osarenren, who was a lecturer from the department of Educational Foundation, Faculty of Education, University of Lagos. With adequate knowledge and mastery of educational psychology, the commissioner faced the several inadequacies that had crippled the sector in Edo State. In this interview with Daily Sun, Osarenren recounted her experiences and the gains of her leadership.
The state of education in Edo State before her appointment
The rot cannot be quantified. It is not in terms of depth or height. It was locusts ravaging the land, and I like to stick to what is right, do what is proper. Why would any sane person encourage external candidates for school-based exams when we have exams for private candidates? We have the November/December exams conducted by WAEC and NECO. So why would you leave to do those things you ought to do. School-based exams are meant for students that have spent six years in the secondary school- the May/ June, June/July exams.
Not for somebody that had written WAEC or NECO four, five years ago, and now saw an opportunity to rewrite, or somebody that had not even spent six year in school. Because there are people that have compromised shamelessly, you now allow them. School based exams are for students in the school setting, for those under tutelage, not pregnant women, not men with beards, not people in their late 20s and early 30s. Those are the category of students we should have for school-based exams. You cannot see an abnormal situation and you want to rationalize it, no.
There was also the face-off your ministry had with NECO, over the use of paramilitary personnel to monitor the exams inside the halls?
They were not military men but civil defense corps- they are paramilitary. We never stopped them from being in the school. The only thing is that we said they cannot play the roles of invigilators in the exam hall. They cannot be in the exam halls invigilating exams. That is globally unacceptable, not only in Edo State. It is also good if you check to see what Exam Ethics International has to say on that matter. We are talking about global best practices. In most cases, you see them with whips. Do you know what that does to the psychology of somebody? You are writing exams, somebody in uniform has a whip or baton strolling round the hall, it becomes a threat. We never said the civil defence should not be there. Since it is their exam as they claim- the commissioner, teachers, principals are mere clients. When you talk about consumer rights, the client is always right. You do what would please the clients, and that is the type of relationship we have with WAEC, which is not the case with NECO.
Presently, how is your relationship with NECO?
NECO has made it clear that they are the ones that determine whatever happens. Though they have written to us on the exams suspended. They say the exams would be rewritten, but they also said that the state government has to pay the cost for re-examining those two subjects, which is N5.9million. We have since written them to acknowledge the receipt of the letter and also informed them that the state government did not pay the enrolment fees for the candidates. We made that position clear to them, although they replied that the exams will still be held on the 21st, and that they are going to give the state until 15th September to pay up.
It was learnt that there were threats to your life concerning the ban on some schools to prevent miracle centres from operating in the state.
Every job has its dangers and has the risks associated with them. But we also have to remind ourselves that whatever you are doing, as long as it is for the general good, not for personal interest, God and the people, the good people are there to protect you. There has been threats, there has been dangers, both physical and spiritual- several of them, but somehow, because what you are doing has no personal interest ingrained-I don't have a private school, none of my relations has, that when they don't go to these other places I will divert them to my own place.
What we are trying to say is that we have one major industry in our state, education, and we don't want anybody to destroy it. They can have their miracles in their states. We are not miracle performers in Edo State. Edo has prominent men and women of integrity and we don't want people from outside the state to stain our name. Many of these people seeking miracles in their results are from outside the state. Am sure if they seek the miracles so urgently and so desperately they should get them in their states. The days of miracles are over. A situation where somebody who registered for the exams will not even sit for any paper, and at the end of the day, will have distinctions is something that is totally unacceptable.
It is not possible in present day Edo State. That is why we are fighting. The people who have made it a multi-billion naira industry are the people fighting, though some of them have also accepted that it is no more business as usual. Through the way we monitored and checked exam malpractice, last year because of some of the reports that we wrote that came in form our monitors and we submitted to WAEC, and made use of our reports and blacklisted 145 schools. These 145 schools did not take part in this year's WAEC. This is to show you the kind of relationship we have with WAEC, but all the reports we submitted to NECO last year, nothing has been done about it.
Does it mean that NECO is in collaboration with some of these schools that operate as miracle centres?
Not technically. What I think is that the NECO office in Benin needs serious overhauling, with some of their collaborators in the Minna office. There are some staff who lack the integrity and professionalism required to work in an exam office there.
What are other measures taken by your ministry to clean up the examinations sector of the ministry?
Our inspectorate division has been re-orientated, and we have a more vibrant. We also have a different attitude among our chief inspectors of education whom are in the 18 local governments. Apart from that, we were able last year, without many of these schools knowing, sent out our inspectors to each of these schools in their local governments and collected the total number of students in SS1 and SS2. On that basis, we now knew the carrying capacity of each school, both private and public. Because we know the carrying capacity of each school, we had a stakeholders' meeting with WAEC, NECO, NABTEB officials. It was then that we agreed that no school will be allowed to register more than 250 candidates.
We also agreed that before they can give out enrolment materials to these schools, either private or public, they should ask for a letter of clearance singed by the commissioner for education. We also have a state ID card for every candidate writing the exams, signed by the commissioner. Another measure was that, before the school gets that clearance, for the private schools we have to see their renewal receipts to ensure that they are actually registered. Then, whether public or private school, you have to show us the class attendance register for your SS2 students. You cannot have 40 students for your SS2 and when its time for WAEC you are registering 100 candidates. Where did the other 60 come from? We also insisted that there would be no admissions in SS3 and JS3.
We also insisted that any candidate that is going to enroll for WAEC or NECO must show the JS3 certificate. We need to see to know that this is actually somebody that had gone through school. Some tried to circumvent these measures. Some forged my signature, some forged letter-headed paper. WAEC was fast to detect all of them and sent to us. With NECO, we had difficulties. We were the ones that investigated and found some of these things. What we got from NECO was the print-out for English (Language).
That was where we now used to see- the typical example from that list is a school we gave clearance for 70 candidates, based on the school's carrying capacity. Some of them had people in NECO office Benin working with them, registering for them. For instance, you have a school that has enrolled 50 candidates. But when you get their list from NECO you will notice that they have 70 candidates whereas you paid for 50.
There were reports that you were bombarded with threat texts. Did anyone confront you physically?
Nobody came, but on a few occasions, we have been chased by vehicles. We have also had people monitoring my house and the police came, when you notice one particular individual hanging around the house all day. Or where, as you are leaving the ministry, a car is chasing you. In one occasion, I had to run into Government House because I just had my orderly alone.
What about the spiritual attacks?
I don't want to recount those periods. I have moved on. Those were very unpleasant periods. If it is possible to erase from my memory, I will. I don't want to remember them. Very strange things you never thought could happen were happening.