ABUJA LAND TRIAL: RIBADU, 500 WOMEN STORM COURT FOR EL-RUFAI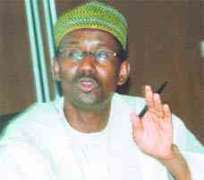 Former Minister of the Federal Capital Territory, Mallam Nasir Ahmad el-Rufai on Monday asked the Federal High Court to quash the eight-count criminal charge slammed against him and two others by the Economic and Financial Crimes Commission (EFCC) for alleged abuse of office.
He was alleged to have use his office to allocate some parcels of land designated for public establishments to his family members, friends and cronies while in office as minister of the FCT. el- Rufai who was accompanied to the court by former chairman of the EFCC, Mallam Nuhu Ribadu and about 500 women was also challenging the jurisdiction of the court to entertain the case.
He specifically told the court that the charge against him was grossly incompetent.
Others charged with el-Rufai are Altine Jubrin and Iro Ismaila who served as public officers under him.
Moving his motion of preliminary objections, counsel to the former minister and former attorney general and minister of justice, Chief Akin Olujinmi (SAN), asked Justice Adamu Bello to withdraw from the case as his court lacked the jurisdiction to adjudicate over the matter.
Olujinmi argued strongly that his client was charged to court under a non-existent law as the ICPC Act 2000 under which the offences were alleged to have been committed no longer existed.
By implication, he said there was no charge before the court for adjudication since the ICPC Act, having been repealed, was no longer existent.
Specifically, the anti-graft agency had dragged el-Rufai and two others before Justice Bello, accusing them of fraudulently revoking Federal Government's plots of land in Abuja and allocating the land to two wives of el-Rufai, Hadiza and Asia, his friends and associates when he was in office.
He was alleged to have committed the offence under Section 19 and punishable under Section 26 of the ICPC Act 2000
Even if the Act was still existing, el-Rufai maintained that any offence under it could only be legally prosecuted by a High Court of the Federal Capital Territory (FCT) and not in any Federal High Court.
The former Minister insisted that EFCC was in a wrong court because the Federal High Court had no jurisdiction.
He asked the court not to dissipate energy on the charge, but rather strike it out completely for having no jurisdiction.
The submissions of Chief Olujinmi were adopted by Chief Godwin Kanu Agabi, SAN and Chief Udom Akpan who stood for second and third accused persons respectively.
Interestingly, yesterday, el-Rufai was accompanied to court by former EFCC chairman, Mallam Nuhu Ribadu and over 500 women from various groups in Abuja.
el-Rufai was, however, tackled by EFCC lawyer, Alhaji Adebayo Adelodun, SAN who claimed that it was too late for the ex-minister to raise objection to his trial because his plea had already been taken.
He submitted that the appropriate time for an accused to raise objection to trial on account of defect in the charge was when the charge was being read to him.
Adelodun submitted that el-Rufai took his plea since May 12 without any objection, adding that 'it is too late in the day for any objection now.'
Besides, the EFCC counsel said Sections 19 and 26(2) and 61(3) of the repealed ICPC Act 2000 under which el-Rufai was charged was retained in the ICPC Act 2003 but now under section 21 of the new Act.
Adelodun, therefore, asked Justice Bello to dismiss the objection for being frivolous, baseless and without merit. He urged the court to assume jurisdiction.
Meanwhile, the court has fixed ruling in the motion for October 13.