Rivers State APC Spokesperson Joins PDP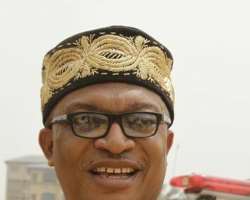 The All Progressive Congress Publicity Secretary in Rivers State, Senibo Chris Finebone, has dumped the party for the state ruling People's Democratic Party, PDP.
This was disclosed in some pictures of Governor Nyesom Wike, posing with the former Chairman of APC in Rivers, Davies Ikanya, the governorship candidate of PDP, Sim Fubara, alongside Finebone.
Finebone also confirmed his exit from the APC to the PDP on telephone, saying it is what it is and that life is full of surprises.
While maintaining that he never had any issues with any member of his former party, Finebone insisted that what some people did not know is that the governorship candidate of PDP is his brother.
Meanwhile, he promised to shed light on reasons he left his former party.