Ibori Will Be Extradited Soon – Dubai Police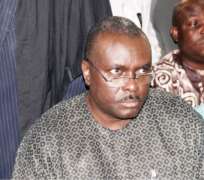 San Francisco, July 25, (THEWILL) – Nigerian politician and businessman, Chief James Onanefe Ibori will soon be extradited to the United Kingdom, a Dubai Police source has confirmed.
The former Delta State Governor who was arrested in Dubai on May 12, 2010, on a red notice international warrant issue by INTERPOL has been detained in a Dubai prison since his bail was revoked by the police.
Gulf News reports that a police source confirmed that the police authorities who arrested Ibori in a five Star hotel in Palm Jumeirah will send the politician to London to face various criminal charges ranging from money laundering to embezzlement of funds belonging to the Delta State Government.
The Nigerian government has alleged that Ibori looted over $85 million dollars while he was governor of the oil rich Delta State between 1999 and 2007.
A London Crown Court some years ago froze over $35 million dollars in cash and assets belonging to Chief Ibori.
The former governor's sister and mistress who were both convicted some weeks ago for aiding the governor in the crime are currently serving their sentences in a London prison.
Chief Ibori fled from the shores of Nigeria after officials of the anti-crime agency, the Economic and Financial Crimes Commission (EFCC) issued a warrant for his arrest over his refusal to honour an invitation to answer charges that he misused state funds in the acquisition of a private oil serving company for himself.
He was however arrested at the request of the British Metropolitan Police by INTERPOL in Dubai.
Analysts believe that the conviction of Ibori's associates in London frustrated his plan to seek asylum in Dubai.
Defending himself on his travails before his arrest, Chief Ibori told THEWILL repeatedly that his prosecution is political because of his political beliefs.
The UAE and the United Kingdom have an Extradition Treaty. When extradited, Ibori will become the second person to be extradited to London from Dubai since the Treaty was signed in London on December 06, 2006.