Ebonyi Guber 2023: Odii, The Mordecai Of Ebonyi State, Deserves It.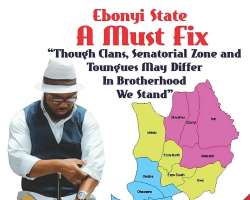 The most incredible and terrible submission I have read over the approaching 2023 Ebonyi governorship election is the statement that the 2023 Ebonyi governorship position should not be used to reward charity!
I had to look up the meaning of charity and everything I saw in the dictionary were in tandem with the fundamental objectives and directive principles of State policy as contained in the 1999 CFRN (as amended). So, governance is simply the management of public trust for the interest of the people!
The mantle of governance should not be left in the hands of misanthropes and wicked people! Ebonyi State is in critical condition and so deserves the best candidate and not the best tribe to lead it to prosperity.
Of all the candidates for the 2023 Ebonyi governorship election, Ifeanyi Odii stands out as the a "giant" giver, positive re-inventor of people's destinies and a builder of people's careers. He built free modern houses for 137 persons across Ebonyi State, sponsored business plans of over a thousand persons whom he has mentored into a generation of young entrepreneurs. They now enjoy economic independence and are ready to rule the business world. For over a decade now, he has sponsored over a thousand scholarships which produced professionals in critical disciplines. Odii is the highest individual investor in education and health in Ebonyi State. In all these and more, his beneficiaries include a broad-spectrum of Ebonyians and others from outside Ebonyi State. Ifeanyi Chukwuma Odii is unassailably a giver-without-borders. He did all those things and more for humanity with his resources as a private citizen. Of all the governorship contestants, Odii is the Modecai of Ebonyi State. He is the man that deserves the public trust of the people of Ebonyi State. With the governorship mandate, Odii will unleash his tested and feasible vision and potentials of human capacity development and wealth creation on Ebonyi State and her people and usher them into unrestrained prosperity!
Ebonyi State deserves Governor Ifeanyi Odii in 2023 to stoke the potentials of Ebonyi State and her people to full dazzle. Ebonyi people have to reward and reinforce charity and not wickedness in 2023. Ifeanyi Chukwuma Odii, the Mordecai of Ebonyi State deserves the 2023 Ebonyi governorship position.