Stakeholders Harp On The Need To Leverage Ieom Services, Development Centre/lab For Better Import/export Business Experience
...as Institute Inducts Board Chairman And Fellows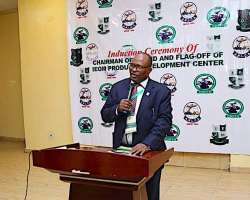 CEO/Executive Secretary Of IEOM, MR Ofon Udofia Making His Welcome Remark At The Event.
Stakeholders in the export/Import cum international trade business have identified the Institute of Export Promotion and Management, (IEOM) as pivotal to getting you acquainted/facilitating a seamless export/Import and International trade business experience, emphasizing the need to register with the foremost training, advocacy, export market advisory services institute to have a better understanding and to rise above the many challenges posed by export/import business including processes in the sector to help individuals harness the limitless opportunities available in the business to thrive.
This was the assertion during The gathering of critical stakeholders, corporate bodies, and business entities among others for the official induction of Chief Henry Njoku as Chairman Board of Directors, investiture of Fellows, and Product Development Centre/Laboratory Fund Raising Programme organized by the Institute of Export Promotion and Management, at the prestigious Swiss Spirit Hotel in Port Harcourt.
Making his welcome remark, the Chief Executive Officer/Executive Secretary of IEOM, Mr. Ofon Udofia noted that IEOM is a foremost independent provider of export training and research institute, established in 2014 to stimulate and facilitate increased participation of Nigeria SMEs in non-oil export business. Furthermore, he said the institute is a trade support institution groomed to become the leading Nigeria training institute for international trade and a pivot for West Africa, adding that IEOM also creates innovative products and platforms which clients and members can leverage to drive measurable results, and scale up their export business in a cost-effective way.
Speaking highly about the new Chairman of the Board of Directors, Udofia said: " I will like to introduce to you a man with a golden heart, a perfect gentleman, the CEO of Harritex Group of Companies, Chief Henry Njoku, taking an inventory of his pedigree and wealth of experience, including his various contributions to the development of our nation at large, we are convinced that having him as the Chairman board of the institute at this time will usher us into greater heights.
For the Product Development and the analysis laboratory, the IEOM Executive Secretary noted that it is coming at a very critical time, and this is very significant as food safety/quality is an important factor that must be considered by manufacturers. According to him, it is important to carry out valid laboratory testing of food products periodically or on product batches to ensure the food safety process is completed for quality control and to help meet export and import standards.
The Keynote speaker, an innovation and Enterprise Consultant, who teaches Entrepreneurship and Strategic management courses in the Department of Management University of Port Harcourt and an award-winning entrepreneurship educator, Eniola Yemi Temidayo disclosed that there are enormous opportunities in the export business and encouraged interested parties to join, the fray, albeit after saying: " Opportunities in the export sector quite huge but there are standards we must adhere to get it right, in terms of packaging, we must do the due diligence in a bid to strictly adhere to accepted international standards. This according to him is where the Institute of Export Operations and Management comes into play to guide you and provide the relevant training that will position you strategically and favourably to thrive in international business.
Speaking to newsmen, the newly inducted Chairman of the institute, Chief Henry Iheanyichukwu Njoku assured all and sundry that he will bring his wealth of experience to bear on IEOM. The multiple traditional title holder who has worked satisfactorily in various firms and had cut his teeth in the core sector of freight forwarding urged the public to take advantage of the institute's development center and laboratory to carve a niche for themselves in the International market.
the event which was the gathering of the critical stakeholders in the export, freight, maritime, and business sector also had remarks from
the Rivers state coordinator of Standard Organization of Nigeria, represented by Engr Ayode Tijani Dosunmi who spoke elaborately on the dynamics of regulation and the need to get quality management system certification, how to audit processed to go international.
Recipients Inducted As Fellows Of The Institute Display In A Group Photograph.
President of the Association of Nigeria Licensed Customs Agents, Dr. Farinto Kayode Collins was also in attendance and was also inducted as a fellow of the institute.
The event which attracted a quality crowd and critical stakeholders, from ANCLA, SON, NAFDAC, NEPC, Chambers of commerce, corporate bodies, and business entities, among others, also witnessed the induction of the board of directors Chairman, Chief Henry Njoku, fellowship induction ceremony of other members, award of fellowship certificates, and fundraising ceremony for IEOM Product Development Center/ Laboratory.
Ofon Udofia Presenting A Certificate of induction To Chief Henry Njoku Following His Investiture As The New Board Of Directors Chairman of IEOM.