Diasporans For PDP Promoting Voter Participation With A Get-Your-PVC Drive Across The Nation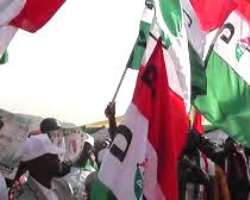 For the past number of weeks, Diasporans for PDP has engaged in voter education and mobilization across Nigeria. The organizations' members and volunteers have been travelling from house to house, street to street, and state to state. They have been seen encouraging fellow Nigerians to go and obtain their PVCs in various states including the Federal Capital Territory, Kaduna, Kebbi, Plateau, Zamfara, etc.
"It's been a very successful grassroots operation for our teams and our message has been simple: Your PVC? Your voice!! Go and get it and use it wisely!!", said the organization's founder and national chair Honourable Victoria Pamugo.
"Our teams have been leading people to register for their PVCs, reminding them the importance of PVC registration, collection and use," Hon. Pamugo said. "We gave out Diasporans for PDP beautiful PVC registration badges as a reminder to do the needful by registering to vote which is the civic duty of every citizen," she said.
"A lot is at stake for Nigerians living in diaspora in this election. Even though we are all enjoying the comfort of a good life in the places we live, Nigeria is our country. A badly run Nigeria as we have seen under APC in the past eight years is problematic because we still have serious financial and economic investments in Nigeria. Our mothers, fathers, brothers, sisters, uncles, aunties, friends and relatives still live there. We must participate in building a better Nigeria for all of us."
"We want a country that provides the basic needs of life: security, jobs, quality education, health-care, good roads, steady electricity supply, etc. APC has proven that it does not care about the future of Nigeria. Their choice of a physically unfit man for president also supports popular belief that APC is joking with the future of our country. We believe that it is only PDP that will turn things around and lead Nigeria in a new direction that will restore peace and prosperity in our country," she affirmed.
Diasporans for PDP has promised to mobilize at all levels to ensure that PDP returns to Aso Rock in 2023. Recall that Diasporans for PDP made diaspora voting right a key issue of this election.
Earlier this year, they organized a successful virtual town hall to bring this important issue to focus. They agreed that Nigerians abroad are a strong economic force that remits billions of dollars annually to the country and as such should be enfranchised and allowed to have a say in determining the political and economic direction of the country.
"After all, we are Nigerian citizens and every Nigerian should be able to vote in a general election, no matter where they live," Hon. Pamugo said.
Recall that the presidential candidate for PDP, His Excellency, Atiku Abubakar GCON, has committed to making diaspora voting rights a reality if elected into power. Even though Nigerians in diaspora are not eligible to vote in this upcoming election, Diasporans for PDP is prepared to mobilize, educate, and encourage massive voter turnout.
"That's why we have engaged in these grassroots operations to encourage our fellow citizens to go out now and get their PVCs so that they will be able to have a voice through their votes in 2023," Hon. Pamugo said.
Diasporans for PDP is a registered non-profit organization based in the United States of America, with members from many countries including but not limited to Austria, Canada, Germany, Italy, Japan, Kenya, Netherlands, Norway, South Africa, Spain, Sweden, United Kingdom and United States of America.
For more information, visit www.disporansforpdp.com .
Signed:
Chidi Igwe, PhD
National Publicity Secretary
Diasporans for PDP