Henderson Unhappy In Man U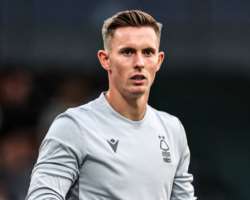 British goalie and Man U second choice keeper, Dean Henderson has had is fair share of frustration at Manchester United accusing them for wasting 12 months of his career
in an interview, he snapped at Manchester United for not fulfilling the promise of giving him the number one spot last season in goal. The 25-year-old is angry with how the Red Devils treated him over the course of the 2021/22 campaign.
Henderson spent most of his time on the bench last season, playing second fiddle to David de Gea. The England international didn't feature in a single Premier League game in the previous campaign.
Now, speaking to talkSPORT (h/t Manchester Evening News), Henderson has made clear his frustration from last season. He took aim at Man United for not allowing him to leave on loan.
Dean Henderson played second fiddle to David de Gea at Manchester United last season.
"I turned so many good loans down last summer for that reason [being promised the No.1 spot], and they wouldn't let me go.
"It was frustrating. To sit there and waste 12 months is criminal really, at my age. I was fuming."
After his return to Manchester in 2020 after two successful seasons on loan at Sheffield United. The 25-year-old made a name for himself with the Blades, putting in impressive performances in the Championship and the Premier League.
With David de Gea still at the club, the England international didn't start many games in the 2020/21 season. But he still got time out on the pitch, featuring in 26 games.
After being promised the number one spot for the 2021/22 campaign, ironically Henderson found himself with even less time on the pitch than in his first season with the senior side. And the England international was cross about the situation.
Dean Henderson was promised the number one spot at Manchester United last year.
"The conversation I had, coming out of the Euro squad, was that you're coming back here to be the number one goalkeeper. I got Covid – unfortunately, no one followed through with anything they told me."
Henderson featured in three games for the first team last campaign. De Gea had a few years where he looked shaky in between the sticks. The Spaniard also isn't the best with the ball at his feet.
The England international, on the other hand, has all the attributes that good modern goalkeepers possess. And with the game changing drastically over the years, with sides preferring to play out from the back, having someone like Henderson is an advantage.
But for whatever reasons, the 25-year-old didn't quite get the opportunity to solidify himself as the number one at United. Hopefully, Henderson comes back in a year's time and gets to showcase his talent in Old Trafford once again