DIAMOND BANK POSTS 240% RISE IN PROFIT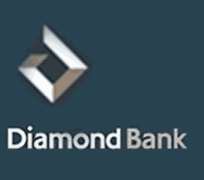 Diamond Bank Plc has recorded a profit before tax of N6.09 billion in the first half of the year ended June 30, 2010. This represented an increase of 240 per cent over the N4.35 billion in the corresponding period of last year.
The bank explained in a statement that, the unaudited result indicates that its balance sheet grew by 6 per cent, while its liquidity ratio stood at 44 per cent, 19 per cent above the minimum regulatory ratio of 25 per cent.
The unaudited result demonstrates continued growth in lower cost demand deposits and cost efficiency gains, emanating from its process reengineering initiatives
Speaking on the performance, its Managing Director, Emeka Onwuka, said that the improving global financial and economic landscape has led to increased confidence in the Nigerian banking system and the gradual rebound of the stock market has given a clear indication of the renewed confidence in the Nigerian capital market.
He added: 'At Diamond bank, we have adhered to our organic growth strategy and have continued to grow our deposits over the period. Importantly, low-cost deposits now account for over 60 per cent of our total deposits,' he said.
Onwuka further stated that the bank's process reengineering project initiatives has also begun to deliver efficiency gains. 'Besides our process reengineering project initiatives has started to deliver efficiency gains. We have opened more office locations with improved cost efficiencies which are increasing our ability to sustainably secure low cost funding for the group. The newly commissioned Enterprise Risk Management Framework and membership of two credit risk agencies has improved our risk metrics considerably and enabled the bank to set and manage its risk appetite according to our strategy.'
Relishing on the various business strategies to be adopted in ensuring a sustainable growth in the bank to also contribute to the development of the economy, he said: 'For the rest of the year, we will continue to focus on the retail segment of our business, with several initiatives already started this year including our reduction in lending rates and zero percent interest automobile loans. This, coupled with re-engineering processes within the bank, will enable us to continue to enjoy the benefits of the rebounding economy while remaining a major player in the middle market and making in-roads to a larger share of the corporate and public sector banking spaces.'