THESE CLEFT LIPS VICTIMS CAN SMILE AGAIN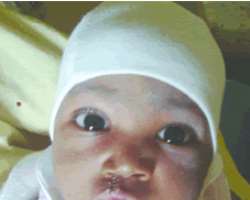 Esther after sugery
Nurudeen Adebare was born with a painful defect. His upper lip was split in two places. Kids of his age taunted and called him names. Little Nurudeen found it hard to come to terms with the deformity. Turning to his mother, she said it all started with an enlarged swelling on his upper lip.
Though he was able to eat his meals, his speech was hampered greatly as one couldn't make out what he was saying or tended to say easily. The boy's indigent parents couldn't help him. He therefore went through childhood and early life with the physical and psychological pain.
NGO's big smile
Help however, came his way just when he turned 24.He told Sunday Sun that a friend of his told him about a philanthropic organization, Smile Train, a non-governmental organization (NGO) established to help children that are faced with such a defect.
Like Nurudeen, when Farouk Agaba was was born, his mother noticed the defect on his lips. She immediately took the baby to a Teaching hospital in Shagamu, Ogun State, where she was told to come back with Farouk after six months.
By the sixth month when she went back there, she was referred to University College Hospital, UCH, Ibadan, because the cost of surgery was outrageous to her. She became helpless and worried. But a glimmer of hope came her way when a cousin to a certain doctor told about Smile Train. Earlier on, the wife of Ogun state governor, Mrs Funke Daniel had offered to pay for Faruk's surgery, but there was delay in carrying out the surgery.
At last ,Faruk's mother heaved a sigh of relief when Smile Train reached out to the little boy . After the reconstructive surgery, Faruk's mother's joy knew no bounds. Her happiness emanated from the fact that her baby now looks like every other normal child and that neighbours no longer looked at her Faruk embarrassingly.
Their neighbours don't even recognize him again because of the transformation after the surgery. Among several others, Sunday Sun visited one of the partners of Smile Train, Dr Segun Aromolate, a plastic surgeon at the Shoreman Medical Centre located in the heart of Ikeja, it was there this correspondent ran into a very exuberant and happy Nurudeen who recently benefited from the Smile Train's gesture.
One could feel the joy in Nurudeen exhibiting while waiting to get the remains of the plaster off his face.
Causes
Speaking with Dr Aromolate, Sunday Sun learnt that the disorder, cheiloschisis and platoschisis commonly known as cleft lip and palate is a defect without a known cause. The defect, according to him , is a congenital abnormality which occurs in about 28 days or thereabout after gestation. He concluded that once that stage is passed, it can never occur again. In other words, cleft lip and palate occurs after six weeks (2 months) of gestation.
He added that another factor that is being incriminated is the hereditary factor which although not common but in some cases as a result of the chromosomal cause it could run through or alternate in the family from one passed from generation to another. Another likely factor, he said is environmental: where there is an ingesting of material substance that is detrimental to the growing foetus before gestation or even a deficiency in one of the factors responsible for body growth or vitamin C deficiency.
A case of which, he claims ,was that of a set of triplets that were inflicted with cleft lip, after thorough investigations, it was traced to the ingesting of concoctions offered by an herbalist the unsuspecting mother during her ante-natal visits. The doctor however, advised that when a woman is expecting, she should adhere strictly to what the doctors prescribed to avoid complications during and after delivery.
Nurudeen, prior to the surgery had difficulty in communicating with clarity because of the abnormality.
According to Dr Aromolate, Nurudeen' case was to the degree known as bilateral cleft lip and palate that created the difficulty of making clear speech from him. But after the surgery, there has been an improvement in Nurudeen's speech, which the mother attested readily to: 'Things have really changed for him.
In fact, he is okay' she added with excitement and relief.
Tell tale signs to look out for
Sunday Sun investigations reveal that a mother cannot for sure see the signs of cleft lip and palate but an alternative is that a high-resolution scan and ultrasound test should be carried out to give a clearer picture of the face during the seventh month of pregnancy. At that stage, abortion is impossible if it is discovered but after birth when the signs are obvious. But Dr Aromolate says it is not a period for such parents to feel guilty about such babies or accused and suspect witchcraft or even be depressed about it.The expertise of plastic surgeons can restore the defect through perfect surgical repairs.
Length of surgery and healing process
For such high-class surgery, it takes a time frame of about 48 minutes to one and half hours. Dr Aromolate who started such surgery since 2007 and has done about 300 says it takes about a week to heal. The reason , Sunday Sun learnt is that the face is endowed with a generous supply of blood vessels and also having a good healing ability.
Cost of the surgery
Asked the cost of the surgery, Dr Aromolate, a partner with the NGO, Smile Train said it is free.'But when one comes on his own to pay for the surgery, such a person should have about N100, 000 to N200, 000'.This ,the doctor attested is a high-class surgery and the Smile Train pays a subsidized fee of $200 to the surgeons. Therefore, Smile Train is calling out to victims of such defects to cease this opportunity and come out for free treatment.
Statistics
According to statistical survey conducted in Nigeria, a result of 1 in 3000 live births puts Nigeria as a non-suffering nation of the defects unlike the Oriental countries like China, Japan and even in Europe where it occurs as 1 in 300 births, meaning that for every five children born, one has cleft . Sunday Sun learnt the defect is not prevalent in Nigria because of our strong genetic make-up.