ZONING NO MORE FASHIONABLE – KUMALIA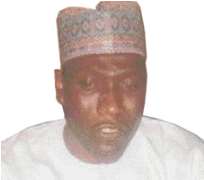 Kumalia
Borno Governorship candidate of the Action Congress (AC) in 2007 and now Peoples Democratic Party (PDP) chieftain, Mohammed Umara Kumalia has confessed that the party cannot match Governor Ali Modu Sheriff's financial war chest for 2011.
But he was quick to add that the election was not all about money, adding that if Governor Ibrahim Shekarau could win Kano in 2003 without money, the PDP was equally sure of victory in Borno State in 2011.
In a recent interview with Sunday Sun in Abuja, Kumalia, who also spoke on the contentious zoning issue, insists that what will bring about peace, unity, harmony, and greater understanding amongst Nigerian people is to allow everybody to contest including President Goodluck Jonathan.
Excerpts…
You were part of the 1995 constitution conference, what really happened concerning the type of zoning that was proposed? Is it in any way different from the type we are talking about today?
No, there are two different things altogether. I was the Secretary of the constitution drafting committee for the constitutional conference in 1995. The constitution that was produced then talked about zoning, made it very holistic in such a way that there will be a President and there will be Vice Presidents and if the President dies or is removed by virtue of deformity of body or mind, the Vice President from his zone will take over to complete one term of five years and then it moves to the next round. That was made in such a way that it will go on for 30 years. After 30 years, that part of the constitution does not remain part of the constitution. It is a transitional provision in the constitution that was inserted to carter for zoning.
Now if the zoning that we have is like the one that was envisaged in 1995,it could have been better. We would not be talking about it now. But the zoning that was done by parties in 1999 stops short of addressing the issue in case of eventuality such as what we have today and in this wise, every person that has to discuss this issue has to look at what will bring about peace in this country. What will bring about harmony; and I choose to believe that what will bring about peace, unity, harmony, and greater understanding amongst Nigerian people is to allow everybody to contest including Jonathan. That is my position on that.
Now, talking about the Bauchi rally, which you participated in, what next after Bauchi?
We are going to go to the North West zone. I participated actively in the North-East because I am from the zone. Those that are organizing it from the North West are currently having their meetings and are trying to organize another rally in the zone. We are trying to set up structures in various States particularly in the North East where the rally has already taken place.
There are going to be structures too in other States, where the organization will be launched. We will continue to engage in this discussion and we will hold a contrary opinion to that of some of our leaders on this matter. I respect their opinion and I expect them to respect mine too and the opinion of people that have the same thinking with me. At the end of the day, we will debate and disagree and come to agree on something.
There are some northerners who also believe that maybe if those who have indicated interest from the north to be President are a bit of your generation, perhaps people like you may not have opposed this zoning issue, do you share that sentiment?
I think for those that feel that those propagating the issue of zoning have an interest in the position of government; have every right to raise any eye brow and question their motives. In the Civil Service, that is what they call conflict of interest because on the one hand, you are propagating a position that is supposed to be beneficial to the entire north whereas you have already positioned yourself to benefit from that position if it holds.
They have a right but personally I really do not necessarily believe that they are doing it for their own selfish interest. Be it Babangida, Atiku or any of them, I don't think they are doing it for any selfish interest. That is my personal view, anybody can disagree with me because I know that these are people who have engaged the country on many issues in the past and all of them have their track records and I have always respected each of them. Most of them are going to bring a lot of valuable tools into the leadership. As northerners, we should be proud of them, rather than vilify our leaders. We should be proud to have people like Babangida, Buhari, Atiku, Gen. Aliyu Gusau, Gen. T.Y.Danjuma, Gen. Gowon, and President Shagari. These are eminent northerners that we have and we should be proud of them.
We should not down grade them because we will be like them tomorrow. If God allows you to live long, you will be as old as them tomorrow. If you are talking of position, all of us as young as we are, we are aspiring for one position or the other. Some of us will be President, we will be like them and who will want to throw away some of the very best he has? These are some of the very best that we have in the north.
There are doors that I cannot open, only people like them can open that door, so, we need them to open those doors for the northerners. But if they are engaged in a discussion, it does not mean that we should not disagree with them. We may disagree with them but we should respect them. We should adore them, because they are our leaders. God put them ahead of us, God gave them leadership and leadership is an attribute of God. God chooses who the President is going to be. When I talked about Jonathan, I said God chose Jonathan to be President of Nigeria. People voted for Yar'Adua to be President and off-course, he had a running mate. So, technically, may be you are voting for Goodluck Jonathan then too, but nobody has voted for him today, yet he is President by sheer providence.
But this is a whole nation and this is an issue that is beyond any particular individual. This is an issue that affects 150 million Nigerians, so it must be discussed, it must be deliberated upon by people like me, and my generation. Those of us that we are in our 40s and in our 50s are actively engaged in this discussion and that is why we are part of it.
Are you surprised that Buhari is not part of what he himself has described as a gang up against Jonathan?
That shows the diversity of the discussion and that makes it even healthier. Even among the top leaders, it is not as if all of them agreed on this issue. Buhari is saying that there is nothing like zoning, they should allow Jonathan to come and contest. Whereas some others are saying no, there should be zoning. So that enriches the discussion, which brings out the point I am making- the need for the discussion to be broadened and the need for everybody to feel free to take any position and we should just discuss the issues, we should not bring sentiments into it, we should not bring some strenuous matters into it like criticizing people because they have an interest. This will not address the issue.
As far as I am concerned, I will want to remain focused, I want every player, every discussant to address the issue why do you say there should not be zoning? If I am propagating that there should not be zoning, I expect you to ask me why I think there should not be zoning, and I will tell you why I believe there should not be zoning because we have passed that stage.
Away from national issues, the PDP appears dead in Borno State, do you share that view?
No, I do not share that view. PDP is not dead in Borno.
Why is it that we are not hearing anything from your party in Borno State?
Well, I don't think anybody is doing anything. The ANPP themselves are waiting for Governor Ali Sheriff to anoint those that will contest for office from the position of governor down to councilors because he said nobody should come out to contest for office, so they are all waiting in the wings.
But his brother is already campaigning clandestinely, where does that leave your party?
You said clandestinely, that is not campaign because even in PDP, we have people that have already declared interest to contest for governorship. If you go to Maiduguri, you will see posters everywhere. We have some people that want to vie for House of Assembly seat, Senate and House of Representatives seat. So, they are everywhere bobbling. PDP is not dead.
All we are trying to do now is based on our past experience. We are really working, we may not be going out to campaign because the time is not ripe yet. But at the same time we are working amongst ourselves and we are trying to bring about unity and cohesion within the party.
Do you foresee PDP making any headway in Borno considering what has happened in the past?
What happened in the past should not be a litmus test of what will happen in the future. Reason being that, in 2007, there was no election in Borno state for any office, be it the governorship, the National Assembly or the State House of Assembly election. There was no election. Ali Sheriff is the one allocating votes to himself and to his components. He had total control of the INEC and its officials. He had the police 100 per cent behind him because you will see his cronies in a convoy of vehicles with the Police going about harassing people, snatching ballot boxes. Some of the electoral materials were compromised.
So, irrespective of whatever you were doing out there in the field, they come and write what they want and they will take it there and the returning officers at the different levels would accept them. They did all that with the collaboration of the police and INEC officials, and to some extent even the military in some places were involved.
So, our expectation is that in 2011, the INEC fortunately under the leadership of Professor Jega will be different. He is somebody I respect so much, as an erudite scholar and as somebody who is highly principled. I believe he is going to bring the immediate change within the administration of issues in INEC. In that wise, I will urge him while he is doing his best, he should always keep an eye on the States. No matter how he wants to change things he must keep an eye on the Resident Electoral Commissioners in the States.
These are the people that commit havocs. They are the people that go into deals with incumbents and allocate results of election even before the elections take place. In my state, while we were collating the results for governorship, by which time only eight out of 27 Local Government results were collated, Maurice Iwu announced that Ali Sheriff had won the governorship election on the National Television here in Abuja.
But at that time, at the collation centre in Maiduguri, only eight Councils' results had been collated and as soon as people heard about the announcement, the whole city went into celebration. When we complained to the Resident Commissioner in Borno, he said no, he does not care about what happened in Abuja, as far as he was concerned, his exercise was still going on.
But believe me, eventually, what was announced in Abuja was what stands. So, there was no election, Ali Sheriff did not win election. ANPP did not win election in Borno in 2007.
Do you think the PDP can match Sheriff's financial war chest, come 2011?
Where are we going to get the money from? The man is spending people's resources and we are not in control of any government purse. In any case, even for him, it is illegal but that is what he is doing. He is not the only one guilty of this anyway, most incumbents do it, but it is wrong. We don't have his war chest, in terms of money, but it is not about money this time around. If the people are determined and if INEC is going to protect our votes, we will do our best to unseat the ANPP in 2011. In 2003, Governor Shekarau of Kano, how much money did he have?
He did not have any money but because he was popular and the people of Kano wanted him, they voted for him, INEC protected the people's votes and he became governor. I can cite many examples for you. So we don't have to have their kind of money to win elections in Borno State.
As a Borno indigene, are you in any way worried that Governor Ali Sheriff is allegedly planning to hand over to his younger brother?
Well, I pray he nominates his younger brother. Handing over is another thing. It is when he wins that he will be handed over to. But first let him nominate his younger brother and we will know how to cross the bridge when we get there. I will talk about my worries when the time for election comes, when I go out to address the public in the nooks and crannies of Borno, I will tell them my opinion about that.
On a final note, what are you running for this time around?
I have not made up my mind to run for anything. PDP is trying to build up a party right now. We are trying to build the structures of the party, we are trying to energize our membership, we are trying to energize the structures, and we are trying to bring in more people into the party.
So, I am actively involved in the processes of energizing the party, building the party and enhancing the capacity of the party in Borno before the next election. The time tables are not out yet, may be when they are out I will decide if I am running for any office or not.