2023: Governor Ortom Declares Support For Atiku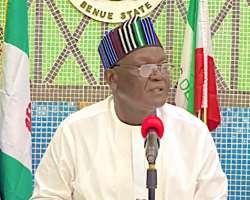 Benue State Governor, Samuel Ortom has thrown his support behind the presidential candidate of the Peoples Democratic Party (PDP), Atiku Abubakar.
This was coming after his earlier remarks that he was still praying on whether to support Atiku for the forthcoming presidential poll.
The governor, however, made this known on Monday that he was now in support of the presidential ambition of Atiku Abubakar..
He said he would not contradict what Atiku had said during his interview on Arise TV, adding that Atiku was his candidate and would stand behind him.
He tweeted: "I will not [email protected] on what he said. He is my candidate and I am behind him.
"Whatever happened in the course of the primaries and nomination of the Presidential running mate is now a thing of the past.
"PDP is a family, and we will always settle our matters in-house."