Security Forces Harass, Block Opposition Leader at an AU Summit Venue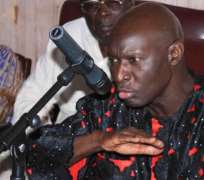 Former United Nations' (UN) Under Secretary general for Children and Armed Conflict, Dr. Olara Otunnu, was blocked from attending the launch of the African Union (AU) summit going on at the Common Wealth resort, Munyonyo.
Security agents in an east Africa country using the government registration vehicles, UG0950C and UG0951C and a private LL629 rammed into Dr Otunnu's car registration number UAK 900U Land Cruiser in a bid to force him to leave the venue. The incident happened on Sunday morning as the former top UN official was accessing the venue like many other opposition leader in the country.
"Dr. Otunnu was invited by the AU secretariat and Ministry of foreign affairs, had an invitation card, car sticker and all other accreditation requirements fulfilled," reads a statement by Robert Kanusu who is the publicity secretary to the former UN official said in stateoggicial. "As I went to the final gate, the police said, 'You must wait here because we need to clear you.' And I said, But I have been cleared. I sat ther in my car for two and a half hours. The security men standing by me urged three drivers behind me to ram into my vehicle, to hit my vehicle from behind. I kept hearing say, 'Do it, hit it' The two vehicle turned out to have plate numbers that belong to State House. That is to say they belong to the presidency," said Dr Otunnu.
This is not the first time, on December 2009, Dr Otunnu narrowly avoided death by a whisk of a thread when his car was forced off the road when, he said that vehicle belonged to President Museveni's Presidentional Protect Guard (PGB). Some of the vehicle in the convoy allegedly to have veered into Dr Otunnu's card, after first giving his driver the okay to overtake slow-moving military convoy. Museveni wasn't part of the convoy.
Then, the US Department of State said that it was keeping an eye on the incident involving Dr Otunnu.
According to Mr Kanusu, the security protocol has not given any explanation for the interception from accessing the resort sort. "They only insisted that Dr. Otunnu wasn't wanted," said Mr Kanusu, adding that: "We are aware that other leaders of opposition parties were invited for the opening ceremony."
"We are shocked that govt targeted only the former UN under Secretary General for Children and Armed Conflict," says Mr Kanusu.
Earlier this year, Dr Otunnu who had just returned from a 23 years exile, was threatened with being crashed. General David Tinyefunza, who is also the Coordinator of Military Intelligence in the Uganda People's Defence Forces (UPDF) was quoted saying that: "There is politics and treachery and we hope he [Dr Otunnu] does not cross the red line. We know what Otunnu has been involved in and I can assure him that if he thinks that he can be a beachhead for Kony in Kampala, he will be crushed and therefore we advise him to stick to political struggle."
General Tinyefunza's threats were part of the reactions of the Uganda Government, when the former UN top diplomat called for an independent inquiry into the killings in the country particularly in northern Uganda and Luwero Triangle swallowed most of the brutal battle between Milton Obote (former Ugandan leader) and the then Museveni's led National Resistance Movement rebels.
By press time, Dr. Otunnu who recently returned to the country after a 23 years was about address the press [Today Monday 26, 2010] on this issue and on the new developments concerning the police summons that were served to him in April of this year. He was summons to answer charges of Libel and Secretarianism against the President and the M7 regime.