DO I KILL MYSELF BECAUSE MY MARRIAGE BROKE UP?---MOYO OYATOGUN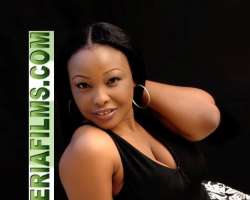 Anyone who has followed her inspirational journey in the nation's broadcasting industry would readily agree that she is one of the vivacious and captivating on-air personalities. Beautiful Mofe Oyatogun, daughter of ex-NTA broadcaster, Walter Oyatogun, co-presents a programme, Daily Guide, on Star FM, Ikeja, Lagos, with her sister, Moyo Oyatogun. In this interview with BABATUNDE SULAIMAN, the mother of one talks about her crashed marriage, life as a broadcaster and other interesting issues
While we were chatting earlier, you described your parents as unusual and free-thinkers. Could you expatiate?
Well, unlike the usual African parents that would tell their children things like 'go and sit down', my parents were not like that. They were more liberal. Of course, I don't mean that they were not disciplinarians! But all I am saying is that they always took their time to explain everything to us. Much later in life, I realized that my own experience was quite different from what other peoples' experiences were. My dad was a bit more conservative and traditional than my mum. My dad had ideas of what he wanted us to be. For instance, he wanted Moyo to be a lawyer, he wanted me to be a medical doctor and he wanted Layole to be an agricultural scientist. But we all turned out at the end of the day to be in the media. He never wanted any of us to be in the media.
Why did he want you to be a medical doctor?
Okay, my mum had high blood pressure when I was growing up. And, in fact, I came back from school one day and found my mum in shock, medically. It was a very, very harrowing experience for me. So, I had to get a taxi and rushed her to the hospital for medical attention. So, on that day, I swore to my dad that I would be a medical doctor so that I could find the cure for hypertension and heart-related diseases. But it didn't turn out like that anyway!
So, why did you jettison the idea of studying medicine?
I actually got admission to study medicine in the University of Ibadan in 1999 and I had already started (pauses)…But I had to leave the university owing to some problems. Later, I sat for the University Matriculation Examinations (U.M.E) twice, but my results never came out.
Were you still applying for medicine?
Yes, I was. But one day, my mum came across a newspaper advert for a part-time course in Mass Communication at the University of Lagos, Akoka. So, she said I should apply for it because, according to her, I speak and write well. So, I told my sister who was then studying Agricultural Science about the advert. We both sat for the entrance examination and we did very well. And by that time, I had already started a television programme on housing development in 2001-it was my first job, anyway.
How has your upbringing impacted on your lifestyle today?
It has opened my mind very well to the world. I haven't been out of this country before, but I am able to hold my own with people who are well travelled. While we were growing up, my mum would bring several books like Gulliver's Travel, Robison Crusoe and make us read them.
What was she into?
She was working at the Ghanaian High Commission and she was a free-thinker. My mum just wanted us to explore and be the best that we could be.
Are you saying your dad, a renowned broadcaster, never influenced your coming into journalism?
Well, he did, and I will tell you how. Instead of my dad hugging us and asking us how the day was whenever he returned home, he would rather say, "Where is my summary?" From the time I could write, I had to summarize the 9.00pm news on the NTA network everyday. My dad would give me a newspaper article and ask me to bring out the salient points in it. At age 11, my dad would give me a newspaper editorial to read and critique it. I started summarizing the NTA news at seven. Even if it was just in three sentences, I had to write what struck me about the news and why it did. And there must not be punctuation or grammatical errors; we had to speak right. As a result, he refused to let us learn the Yoruba language. I had to start learning Yoruba as an adult and that is why I still have problems with the intonation and so on.
How many are you from your parents?
Well, the family is a bit complicated. Moyo and I are from the same father and mother; Layole is my dad's daughter from another woman; and I have two brothers from another father by my mother. My parents divorced when I was about three and my mother later remarried.
So, you lived with your mother?
Well, it was a kind of shared parenting.
Okay, at what age did the fact of their separation dawn on you?
I think it dawned on me when I was in the J.S.S.3. I was more of a dreamer. I didn't really care what was going on around me then. You see, because my mum had remarried, I looked at it this way that I would get three allowances: One from my father, one from my stepfather and one from my mother. So, it paid me to have divorced parents. To me, their being divorced was good for my pocket!
When did you enter the University of Lagos?
I got admission to study Mass Communication (Part-time) in 2003 and graduated in 2008.
What was it like on the campus?
Oh! It was fantastic! As I said earlier, I had started working in MITV, Ikeja, Lagos, before I got admission into Unilag. Most of my lecturers were wonderful. Now, if I do anything on air that they don't like, they would call me and yab me. It was a very enlightening experience because they were very thorough. I was the best graduating female student and I made a 2.1
How did you achieve that feat?
I had no social life. All I did was work, take care of my son and then attend classes. I was (still am) a bookworm.
But anyone who doesn't know you very well would think that you are one of the so-called 'happening' ladies?
No, I am not o! I read a lot. When I am on the Internet, I am reading e-books. I can't do without reading books. I read romance and mystery novels and so on. In fact, I read autobiographies of great people like Barrack Obama, Bill Clinton and Mandela to my son because I want him to be great. Every treasure in this life, as far as I am concerned, is hidden in books. I am a bookworm and I am not as social as you may think. But because of the nature of my job, I try to sound as if I am one.
Are you, therefore, a misunderstood person?
I think people see me the way they want to see me. On air, I am very outrageous; but I do this to make my programmes interesting. I feel that people should have fun in the possible way they can and I know that most Nigerians like owambe and things like that. It is not as if I don't like going out, but to grab myself to go is a problem. I would rather sit down at home with a big cup of tea and a wonderful novel or an India movie. For me, those are pieces of heaven on earth.
When did you get married?
I got married a few years ago, but it didn't last too long. I would say we dated longer than we were married.
So, what went wrong?
I guess it wasn't meant to be. Well, the truth is he married another woman and I left because I don't agree with polygamy. He is from Maiduguri in Borno State. His name is Muhammed Grima. My son's name is Kamal Grima. It didn't last because I am not a big fan of polygamy, where I would be one of the wives.
I wonder if you really loved him.
I loved him with every fibre of my being.
But are you not bothered about being described as a single mother?
Well, I don't really think about what people think or say about me. This is because everybody has skeletons in his or her cupboard. But I am not saying that my son is a skeleton in my cupboard o! I don't live my life based on what people would say. The only person I owe any sort of explanation is God. And once I am okay before God, I don't really care. I haven't done anything wrong! My marriage failed. But it wasn't my heart-desire. I met this guy when I was 18 and I fell in love with him (pauses)… It is even difficult to go out on a date with another guy right now.
So, you don't trust men now?
No! No! Please, I am not saying that! You see, there are some things I would need in a guy, but they are somehow difficult to come by. For instance, he has to be romantic, honest, sweet, God-fearing and hard working because I am not about to feed any man.
But did Muhammed meet all these requirements?
No, he didn't. He was handsome, spontaneous and exciting.
Was he romantic?
He was very romantic! Do you know how he proposed to me? He took me out on a boat and filled everywhere with flowers; there was champagne and there was also my favourite food, Chinese food. When I opened the prong, there was a wedding ring inside it. It was so romantic! And then, he began to say, "I am nothing without you; you complete me. Would you complete me for life?" But apparently, he was also being romantic to a lot of women. But I just allowed them to have him; after all, I had had him for several years.
But didn't you know this side of him, so to say?
I knew, but I thought I could help the situation. You see, it was this same fear of being a single parent and all that that made me stay until I was falling into a bottomless pit.
Were you heartbroken when it happened?
Oh, my God! That was an understatement. I was devastated! I had to be strong because I didn't have time to be heartbroken. I threw myself into my work and I was also in school then. Do you know the funny thing? It was in my first semester, 200-level and I made As in all my courses.
Would you describe your first marriage as a mistake?
No! He loved me and I was special to him. It is a matter of culture shock. He had been raised with the belief that if his father had about five wives, why shouldn't he have more than one? He did try for a while to be the kind of person that I wanted, but that was not him.
What was the greatest sacrifice you made while the marriage lasted?
It was trying to tolerate the fact that I knew my husband was sleeping with other women.
What can you do for love?
I can try hard for love, knowing that I am not perfect. I can try to tolerate other people's imperfections or look for a way to live with them. Other than that, no more, please! This love thing is overrated. I believe in true love because I watch Indian films and I know that true love does exist. But it is a very elusive element. I believe I have found it once with my ex-husband and I thank God for it while it lasted because it was a wonderful experience.
Are you looking at going into another marriage soon?
If it happens, great! But I won't go out of my way to go into another marriage.
Are you saying you are not in a relationship now?
No, I haven't been in any relationship since then.
Really?
Well, there was one that I did try. But I later found out that his wife, who lives in America, was barren and he wanted to marry me since I had already been 'tried and tested'-after all, I have a son. I am a journalist, so I did my home work and found out. So, I just threw him out.
But in this society of ours, many would see any woman in your condition as promiscuous or flirtatious.
I think some people are just narrow-minded. I am not saying everybody in my condition is not flirtatious. After all, Stella Damasus was everywhere with my husband then. As a mother, I don't think that was a right example that she set for her children. It really hurt me to see her in the newspapers with my husband, even though we had only been separated and not divorced then. But it does not mean that because she is doing that, then I would now go and start running after other peoples' husbands. You see, I am a born-again Christian. I say it anywhere and any time. I would sometimes park my car, board a public bus and start sharing tracts and inviting people to my church programmes. So, if because one or two people are flirtatious, it does not mean that you should tar everybody with the same brush. It is not my heart-desire that I am divorced. I wanted to be married forever and ever to Muhammed. But it didn't turn out like that, so do I kill myself or do I go and hide in a hole because society would talk? Where was the society to help me with my marriage? After all, when my husband decided to marry another person and I walked out of the marriage, I didn't go into Aristlo. I worked hard; I did voice-over, jingles, MC jobs and so on, all within the context of broadcasting to earn a living.
But can all these take away the thought of sex from your mind?
For me, sex is a big part of love, and I don't think there should be sex without love. I don't know how people can sleep together when there is no love between them. The concept burgles the mind. Sex with my husband was fantastic because I loved him. But if I picture it now, I don't love any person right now and I don't even remotely like any person now. So, I can't think of sleeping with somebody I don't love.
How did you and your sister, Moyo, come to be presenters on Star FM?
It was a very interesting story. My sister was about to go on the maternity leave (pauses)… In fact, she was almost giving birth in the studio. Her co-presenter had to go on the NYSC then. There was nobody to take over the programme from her because she was pregnant with her first child. I had a programme, Star Dust, on MITV then. So, one day, the Chairman, Alhaji Muri Gbadeyanka, said se bi Mofe wa ni isale( But Mofe is downstairs)? E gbe wa si oke ki o wa se programme fun mi( Let her come upstairs to present a programme for me). So, they just threw me on air one day unceremoniously. I didn't even know what to do; it was so funny. But my sister put me through for one or two weeks before she gave birth to her child. In fact, she drove out straight from here (the studio) to the hospital. But many people didn't know. She was in labour on air.
Certainly, it should be interesting to be a co-presenter with your sister.
It is fantastic! Apart from my son, it is the best thing that has happened to me. It is indescribable. According to the media monitoring agency, we have 20 million listeners; so, it is humbling. So, if, as a presenter, I didn't have anything to give, people would not tune in every morning.
What have been the challenges?
Oh, my God! The first challenge is Missy, my car. It is always breaking down; it is a very temperamental car; it is wonderful and we hold conversation together. She would let me know by 'coughing' and then, I will beg her to please not disgrace me (general laughter)Then, the waking up very early in the morning is another challenge. I have to wake up by 4.30am and get to office by 6.30am latest. Another challenge is staying a step ahead of my listeners. I broadcast to different kinds of people: The highly educated, the barely educated and the uneducated. But one thing they all share in common is that they are so intelligent. If I said something that is not logical, they will call me to order at once. So, you have to think and compose your thoughts in a logical and precise order and then deliver it in the same way so that your message can get across; hence, the reading and all that. So, it is really very challenging to be a journalist. And it is not well paid. So, if
I am not industrious, I would be hungry.
Why do you and your sister still retain your maiden names?
Well, even in Hollywood, you have people like Angelina Jolie who is married to Brad Pitt, but still uses her maiden name. That means she is a brand. So, once you have put so much hard work and efforts into building a brand, you shouldn't just change it, especially when you are married to somebody who is understanding and loving. Everywhere else, you are XYZ, but on air, you are that brand you started out with.