Is Peter Obi's Benevolent Spirit Cracking His Palm Kernel Or Nemesis Is Catching Up With "Dis-Obidient" Critics?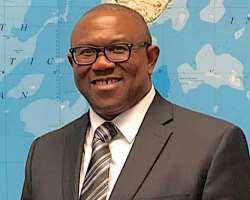 Mr Peter Obi (Labour Party Presidential Candidate)
There is no denying the fact that much was written in 2005 about the governorship election in Anambra State when the State's Election Tribunal pronounced its judgment on the petition filled by Peter Obi against Governor Chris Ngige over the said election. While some of those things said or written seemed plausible, what remained salient particularly in this context is that Peter Obi came out victoriously from the battle like somebody whose palm kernel was cracked by a benevolent spirit.
To grasp what culminated into the foregoing battle, it is expedient to recall in this context that Obi embraced politics in 2003 when he contested the gubernatorial election in Anambra as the candidate of the All Progressives Grand Alliance (APGA). However, Chris Ngige of the Peoples Democratic Party (PDP) was declared winner by the Independent National Electoral Commission (INEC).
Obi refused to accept the outcome of the election and would not go down without a fight. He challenged the result of the election in court, unwavering, until three years later when Ngige's victory was overturned by the court of appeal on March 15, 2006. Obi assumed office the following day. Without any iota of exaggeration, it can only be possible for anyone to win the foregoing battle if there is a benevolent spirit that is from the spiritual realm cracking his palm kernel. For the sake of clarity, anyone whose kernels were cracked by benevolent spirit can in this context be likened to a person who has the Midas touch, and who can figuratively turn anything he touches into a success. Midas touch is used to mean that a person is that successful as anything he or she does would clearly appear that a superpower or a blessing was behind it.
Though he resumed office on 17 March 2006. On 2 November 2006 (after seven months in office), he was impeached by the State House of Assembly and was replaced by his deputy, Virginia Etiaba, making her the first-ever female governor in Nigeria's history.
Obi returned to court and challenged the impeachment and was reinstated on the 9th of February 2007 by the Court of Appeal sitting in Enugu. Still on the political aspect of his life, Peter Obi was declared winner of the 2010 Anambra governorship election on the 7th of February, 2010 after defeating the former governor of Central Bank of Nigeria (CBN), Professor Charles Soludo, who is now the current governor of the State.
Thus, he served his second term as governor of Anambra state until 17 March 2014 after which he handed over to Willie Obiano.
Against the foregoing backdrop, it is not a misnomer to say that Peter Obi who is no doubt a businessman besides being a politician started his life as a trader; a path which is not surprising since he was born into a trading family. However, he later ventured into the corporate world and has served in numerous positions for different companies.
Without mincing word, there is no denying the fact that apart from having his palm kernel cracked as it is obvious in this context that he has in his political career fought his opponents to a standstill, it seems his benevolent spirit is still fighting his opponents that one is compelled to ask in this context: "Is Benevolent Spirit Cracking Peter Obi's Palm Kernel Or Nemesis Is Catching Up With His "Dis-Obidient" Critics?
The foregoing question cannot be farfetched when seen from the perspective of the fact that the misfortunes that have individually befallen his "Dis-Obidient" critics since he won the presidential ticket of the Labour Party (LP) ahead of the 2023 presidential election are eloquent enough for anyone to conclude that the benevolent spirit is still working in his favor cracking his palm kernel.
For instance, the Governor of Rivers State, Nyesom Wike, had in the month of May, 2022, questioned his integrity after he (Obi) decided to leave Peoples Democratic Party (PDP. Though he had explained to Nigerians, particularly to his followers that the recent developments within the PDP made it practically impossible for him to continue participating and making constructive contributions, and hence cross-carpeting to the Labour Party. Notwithstanding, he recently had a tête-à-tête with Wike, but that does not obliterate the fact that the Rivers' State governor denigrated his person, ostensibly to cheapen his electoral value in the estimation of the electorates.
In a similar vein, the media landscape was penultimate week agog with the news that Rev. Father Mbaka, at his Adoration Ministry in Enugu State, declared that unless God ceases to exist, Obi would never smell the seat of the President.
According to the cleric, it was better to have an old man as President than a 'stingy young man'. Against the foregoing backdrop, it is expedient to say that Peter Obi's benevolent spirit did not allow Mbaka to go scot free for misusing his anointing and for laying curse on the presidential aspirant. This is because the Catholic Diocese of Enugu indefinitely suspended the operation of Adoration Ministry officiated by Rev. Fr. Ejike Mbaka in Emene, Enugu. In a pastoral injunction issued by the Bishop of the Diocese, Most Rev Dr. Callistus Onaga, the Bishop said that Mbaka has continued to violate all laid down tenets of Catholicism even after several corrections. Aptly put, it is crystal clear that no one brings down Obi and go scot free as long as his benevolent spirit is with him.
Still in the same vein, Nigerians on Twitter have been attributing the prevailing misfortune that befell the former Deputy Senate President, Ike Ekweremadu to his comment that the South-East region will not vote for Peter Obi, in the 2023 presidential election.
Without any iota of exaggeration, the foregoing speaks eloquent of how a benevolent spirit works in favour of anyone that is fortunate enough to be guided by the spirit. Though the etymology of a benevolent spirit can be clearly understood from the perspective of our ancestors, but in the Christendom, he is no other person than the guardian angel. For the sake of clarity, a guardian angel is that angelic being that is assigned to protect and guide a particular person, group or nation. Belief in angelic being can be traced throughout all antiquity. The idea of angels that guard over people played a major role in Ancient Judaism.
Without being judgmental in this context by concluding that Peter Obi's palm kernels are been cracked by his benevolent spirit, it is left for the readers in this context, in line with their own understanding, to conclude whether Peter Obi's benevolent spirit is going for him or not.
Sandra Ijeoma Okoye (Author)

Disclaimer:

"The views expressed on this site are those of the contributors or columnists, and do not necessarily reflect TheNigerianVoice's position. TheNigerianVoice will not be responsible or liable for any inaccurate or incorrect statements in the contributions or columns here."