VETERAN ACTRESS, TOUN ONI BURIED AMIDST TEARS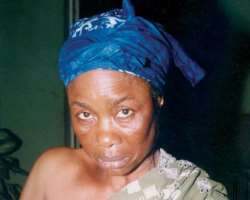 The remains of veteran actress, late Madam Florence Adetoun Oni was laid to rest at Atan Cemetry, Akoka, Yaba on Friday, 23rd July, 2010.
The funeral service which had early held at The Kingdom Hall of Jehovah's Witnesses, 10, Nubi Close, off Park Road, off Apapa Road, Ebute Metta (West), Lagos saw a lot of her friends, fans and other members of the Jehovah's Witnesses domination weeping and speaking of her good works while she was alive.
During the Funeral Talk, Bro. Dare O. Ogunbanjo cited several passages of the Holy Bible which spoke extensively on resurrection and life. He also revealed during the talk which lasted for about an hour that late Madam Toun Oni told him that she wished to die in active service and also peacefully. The emotion laden teaching which had about 260 people in attendance saw Bro. Ogunbanjo shedding tears for the loss of the actress whom he described as a true believer in God's Kingdom.
After the closing prayers at the Kingdom Hall, the white casket which had the remains of Madam Toun Oni was opened for about 10 minutes. This made several people to shed tears uncontrollably. Thereafter her remains was conveyed in a motorcade to Atan Cemetry, Akoka, Yaba where a short and brief remark was given at the grave side by Bro. Dare Ogunbanjo. She was buried afterwards and according to Jehovah's Witnesses doctrine which forbids pouring of sand into the grave or laying or wreaths.
Artistes and crew of the Fuji House of Commotion, a soap which she featured prominently were around to give their last respect to the woman they fondly called Mama T. Though the Executive Producer of Fuji House of Commotion, Amaka Igwe was unavoidably absent, other artistes and crew at the grave side include Sola Oyenuga (Ireti), Uche Oduputa, Chris, Nyowa, Ngozi Nwosu (Peace) and Jude Orhoha. Others include veteran cinematographer, Tunde Kelani and top producer and actress, Ronnie Dikko.
Late Toun Oni was born in 1938 in Lagosto late Mr. James Oni who hailed from Ilesa, Osun State and Mrs. Ajoke Oni who hailed from Ilorin, Kwara State. She had her elementary education at Living Stone Academy, Abule Nla Road, Ebute Metta, Lagos. She later proceeded to Ghanafor her secondary school education. She came back to Nigeriaand was trained at the Universityof Ife(now Obafemi Awolowo University). She started her secular career as a dancer, in the early 1970s and later became a singer and an actress. This brought her to lime light in the acting scene. She became known as Mama T from her role as Mother Theresa in Acada Campus - a television programme in the late 1980s, also known as Mama Moji in Fuji House of Commotion - a weekly comedy programme on the television. She was famous and popular in the acting profession.
She won the Best Actress of the Year Award in 1991 - the first and only edition of the Herbert Ogunde Foundation Award for Theatre Artistes. She was also conferred with a National honour of Officer of the Order of the Niger (OON), by the Federal Government of Nigeria in 2006, in recognition of her outstanding contributions to stage plays and other acts in the Theatre Art industry. She is highly esteemed by her colleagues for her outstanding contributions to the industry.She died on Wednesday July 7th, 2010 on her way to St. Paul's Hospital, Ebute Metta, Lagos. She complained the previous day of body ache. She was aged 72.
WHAT ARTISTES SAID @ TOUN ONIS BURIAL
RONNIE DIKKO
We used to call late Aunty Toun Oni, Mama Tee. She has done her own bit, she was a veteran and someone we all admired. Though we know that we all have to go one day, it is sad to loose somebody so loved by all. For me, God used her as an instrument to bring me to limelight. This is because she was the one who invited me for Family Circle those days. And we have acted alongside one another in several soaps. She has acted my mother and also a producer she has featured in some of my works. She has tried, she died in her 70s. To God be the glory, we will miss her dearly and she is a great loss to the industry. I think she had a good life.
SOLA OYENUGA (IRETI)
She was a mother to all of us. She was accommodating and a good listener. She was also a good adviser, she was willing to advise anyone of us on our career. NGOZI NWOSU(Obviously in a sober mood). I am short of words and not in the right mood to talk about her. We will all miss her. She has gone.....
- Taiwo Obatusin /Nollywoodgists.com EXCLUSIVE