MY HUSBAND IS NOT ROMANTIC-Lara George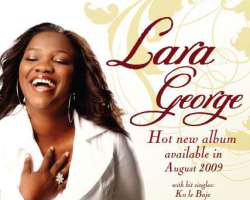 Lara George needs little or no introduction. The Ijoba Orun crooner was part of the musical team called KUSH before it was dissolved due to some irreconcilable differences. Though, rumour has it that, the formidable team may still come back under one umbrella-KUSH to do something for the delight of their fans home and abroad. The beautiful songstress, Lara reveals that her hubby, Gbenga George who also doubles as her manager, is not romancit.
"I didn't like my husband when I first met him. We later became friends. We worked in the same office, a real estate firm. There was a serious situation we found ourselves. At that time, I observed him critically; I found out that there are some things I liked about him. I actually like a guy who has foresight, who doesn't talk about but get things done.
He is very energetic in his thinking. I just found out that I would be alright if I get married to him. He's a bundle of all skills. He's a very down-to-earth person. He neither drinks nor smokes. Once in a while, he takes red wine. He's not that sociable and romantic. Surprisingly, he's so unromantic and that is opposite of me."