Former Spy Chief Doubles-down On Ikran Tahlil Murder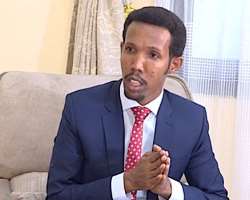 The former director of Somalia's National Intelligence and Security Agency (NISA) and current Member of Parliament, Yasin Farey, spoke publicly for the first time about the controversial killing of NISA cybersecurity agent Ikran Tahlil. In an interview with SMS Somali TV, Farey reinforced NISA's position that Tahlil was murdered by the militant insurgency group Al-Shabaab.
Farey claimed that an "intensive investigation" was conducted by NISA, who many believe to be behind the murder, and that NISA presented their findings to Somalia's judicial service.
The report has never been made public. He added that Ikran's case had been politicized and that people who had no involvement in her murder were made the prime suspects.
Farey denied that she was kidnapped from her home located in a NISA-controlled neighbourhood despite CCTV footage from June 26 - the day she was abducted - showing her voluntarily entering the back seat of an SUV, which would suggest that she knew the driver. Farey said whoever kidnapped Ikran handed her over to Al-Shabaab, who transported her to their stronghold and subsequently murdered her.
Ikran Tahlil's family has maintained that before leaving the house on June 26, she received a call from her superiors to report to the NISA HQ.
Ikran Tahlil's murder and the subsequent political fallout created major fissures in Somalia's political scene. After mounting internal pressure, Somalia's intelligence agency announced that she was killed by Al-Shabaab two months after she went missing without providing definitive proof. Al Shabaab, which claimed the assassinations of hundreds of security and government officials during its decade-long insurgency against Somalia's internationally-backed government, denied it was part of the killing. The embarrassing episode forced the ouster of Somalia's intelligence chief - and close ally of the President - by the PM, which sparked a constitutional struggle within Somalia's national executive and created cracks in Somalia's nascent security apparatus.
The family of Ikraan Tahlil Farah denounced the findings of a military tribunal report that exonerated top members of Somali's intelligence apparatus in the disappearance and killing of her daughter, describing the report as unfair and a coverup.
Abdullahi Ali Sanbalolshe, the two-time director-general of NISA, theorized that Ikran might have been killed because she was in possession of a listthat contained the names of Somali youth who were clandestinely sent to Eritrea for military training.
Following his presidential electoral defeat, Farmajo finally confirmed that thousands of recruits were sent to Eritrea by NISA, despite his government officially denying the training programme.
Recently, embattled NISA personnel from the previous Farmajo administration have granted interviews to control the narrative and rehabilitate their image.
Farey and the other NISA agents elected to Somalia's 11th Parliament enjoy parliamentary immunity from legal prosecution.
Hassan Abdulle writes from Bielefeld , Germany