Catholic Church In Owo, Ondo Blown Up By Suspected Terrorists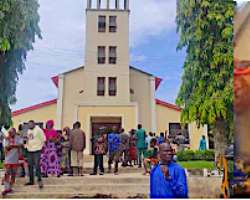 A catholic church in Owo, St. Francis Catholic Church, located within the headquarters of Owo Local Government Area is reported to have been blown up by terrorists. Emerging reports suggest that the bandits have reportedly killed over 50 persons in the attack.
Reports also had it that the number of casualties so far recorded is a far cry from extant reality as many worshippers have died and several others have been left injured following the explosion.
As gathered, many people are feared dead in the explosion on the church premises while mass was ongoing on Sunday. Footage seen captured on the scene showed gory images of dead people, including children and women.
An eyewitness, Kehinde Ogunkorode told newsmen that the bomb attack, which was carried out by suspected bandits caused pandemonium in the area as residents, who were taken by surprise, ran for safety, while spokesperson of the Ondo State Police Command Funmilayo Odunlami said the cause the incident is yet to be ascertained.
"The Commissioner of Police is on his way to the scene to ascertain the cause of the incident. We have been hearing so many things about it but I will get back to you,"
It has been gathered that apart from worshippers, the bandits also killed passerby hit by stray bullets, while witnesses said the gunmen stormed the church during service and started shooting sporadically. It was also gathered that explosives were also detonated by the gunmen inside premises of the church.