Ribadu: Why I Joined the Nigeria Police Force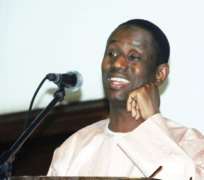 LAGOS, July 22, (THEWILL) - Former Chairman of the Economic and Financial Crimes Commission (EFCC), Mallam Nuhu Ribadu gave a stunning revelation on why he joined the Nigeria Police Force in 1984 after he graduated from the Nigerian Law School in Lagos.
Speaking at a lecture organized to mark the 76th birthday of the Nobel Laureate, Professor Oluwole Akinwande Soyinka, Ribadu credited his career as a policeman to a constable, whose name he did not even know.
The former anti-graft czar said he met the police constable in 1984 while he was a student at the Nigerian Law School. He said his career as a police officer started when he saw a body apparently knocked by a vehicle.
Ribadu said "the person was lying dead beside the road I normally passed to the law school. The corpse was there for days. On my way to school one morning, I saw a police constable packing the now dismembered and decaying corpse and I joined him.
"We went to the general hospital to deposit the corpse at the morgue but it was rejected. So I followed him to a cemetery at Trinity area of Kirikiri, in the company of another old man. I missed most of my lectures that day but the experience changed my life because I started seeing myself as a policeman from that day. I wish the man is hearing me today," Ribadu explained.
The retired AIG of Police related another incident where he saw how Nigerian leaders took decisions "as if no one can challenge them and that they can always do what they want without impunity."
Ribadu said he eventually joined the Nigerian Police just after he graduated from Nigerian Law School, even when there were more beautiful and better job opportunities awaiting him.
"From my look, I did not look like a police officer. But I insisted to join because of my passion to save human lives. In the way the man was buried, many good people have been buried in the past and the bad ones found their ways to the enviable position.
"So, I see the Nigerian Police as a place for me to contribute my quota to national development. My first posting was in Mushin and then Kirikiri cell. I have fought armed robbers physically in Lagos," said Ribadu who challenged and encouraged every Nigerian to emulate his selfless disposition.
"I must confess that I am not from a poor family. My father was a federal minister, but I put that entirely aside to serve this country. Good people will have to make up their minds to serve this country," Ribadu said.
Ribadu has confirmed that he is being wooed by a couple of political parties to contest the presidential election in 2011 under their platform.