PORT REFORM WILL REDUCE GOVERNMENT'S FINANCIAL BURDEN – ALH. KAREEM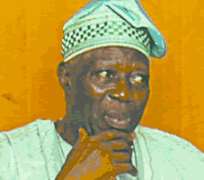 •Waheed A. Kareem
The call for port reforms has been on for quite sometime. The rationale behind the reform is that many of the quay aprons were caving in; cargo-handling equipment are obsolete and irreparable; channels are shallow and littered with wreckages that are crying for immediate removal. The Nigerian Ports Authority (NPA) alone cannot handle all these.
National Chairman of Nigerian Ports Consultative Council, Dr. (Alhaji) Waheed A. Kareem, in this interview with Daily Sun, speaks about port operations, arguing that port reforms will reduce government's financial burden and bring about increased private participation in port operations and management.
Excerpts:
Port Consultative Council (PCC)
The ports consultative council came into existence over 60 years ago. It is the highest consultative and problem-solving council in the maritime industry. Its major function is to ensure there is smooth operation in the maritime sector. For instance, if the maritime operators have problem, they table it before the council for necessary interventions. It is a stakeholders council comprising the Nigeria, Ports Authority, NIMASA, Shippers Council, Terminal Operators, among others, and we meet quarterly. We have a committee that goes out to the ports on regular basis to oversee what is happening.
Ship Entry Notice (SEN) and Cargo Tracking Note (CTN)
Ship Entry Notice is an instrument used by the NPA to regulate or plan for ships coming into Nigeria. So, this has to do with the ships and their berthing arrangement. It is still in use, but not as pronounced as it was in the mid 70's. The Cargo Tracking Note is used to know the particulars of cargo a vessel is carrying, from where it is coming and where it is going. This has to do with cargo and its security implications.
The saga of toxic carrying vessel and port security
What I think happened that time was that the appointed agent at the port where the first vessel came from failed in his responsibility. He may not have been fully on ground and did not take adequate notice. So, that cargo was not tracked. But the second incidence showed that they have learnt their lessons and possibly called to order by the appropriate authorities.
That was why it was detected. In addition to the agents and the functions of the CTN, there are other non-governmental organisations and agencies that play the role of a watchdog that helped in timely detection of planned shipment of another toxic cargo to Nigeria. Whenever they suspect that harmful cargo had been loaded, they alert the appropriate authorities. They do that for the love of humanity.
Arrival of vessels at the ports and allegation of arbitrary charges
Once a vessel arrives Nigeria, information about its arrival must be communicated to the appropriate authorities. As ships come in and others move out, there is control because she cannot just come and go like that. A foreign ship has a place it will stop and announce arrival. When the agent to that ship is ready for clearance, he will approach NPA or terminal operators to book for a berth. There is record to follow up some of these things. The issue of demurrage do not concern NPA. It is not the authority's responsibility.
The terminal operators handle this. If you bring in your ship and agree with terminal operators on the number of days you will stay, it is left for you to abide by it. If the number of days is exceeded, and the reason for overstaying is attributable to the terminal operator, the operator has to pay for the inefficiency. But every activity is recorded so that parties would always struggle to escape one form of penalty or the other.
There is a demurrage sheet. If I charter a vessel, it will be indicated in the charter agreement how the ship would be kept in my care for a particular number of days. So, if the days are prolonged, the owner of the ship will charge me, the charterer, because the vessel incurs direct and indirect costs as long as it remains berthed. This is usually stated in the lease agreement.
So, demurrage starts after expiration of the time allowed. It is a clear straightforward transaction. If a ship is on liner terms, she can stop and discharge anywhere. Again, it means the ship will just get to Nigeria, discharge cargo and turn. There will be no special charges because the cargo does not belong to a particular person. All necessary payments had already been made. But if an individual charters a vessel, that individual takes responsibility for as long as the vessel remains at the port of destination.
Arbitrary demurrage factored into cost of petroleum products
Yes, there are allegations that the PPPRA factor in demurrage cost into the pricing template of the products, but I think Nigerians need more information to be able to know the cost of the refined oil that is being imported. Nigerians have been asking the government to make this public. This will enable stakeholders know the cost profile or cost component of all these.
When this is known, people would be able to tell whether a particular increment is high or not. Coming to the question of demurrage itself, the point here is that most of the vessels bringing products into the country end up in Lagos. So, you have a lot of tankers coming here to carry petroleum products. The problem here might be the problem of having access to the fuel loading point and not with berthing of vessels.
You know that when ships come in, they discharge into the tank farm. It is from the tank farm that tankers load from the ships. The best thing is not to allow all the tankers to come and load from Lagos. They can load from various depots scattered across every region of the country.
If petroleum products are distributed to them, the questions being asked are: who are the people this demurrage is being paid to? Is it to the ports authority, to handlers of the tank farm or who? If importers, like the Nigerian National Petroleum Corporation (NNPC), makes this known, it would enable people to know who takes what. There are many questions begging for answers in this issue.
The main reason for the reform is that many of the quay aprons were caving in; cargo-handling equipment are obsolete and irreparable. Channels are shallow and littered with wreckages that are crying for immediate removal. Many of its aging facilities such as ship and cargo handling equipment would no longer cope effectively with ever-rising ship and cargo traffic destined for Nigerian ports.
Unfortunately, these problems are far more beyond the financial resources of the NPA since they involved capital projects and huge finances. This development emanated from a rapid expansion and growth of the economy, post civil war reconstruction and development as well as the country's import and export rising profiles.
The objectives of the reform are: to improve efficiency and transparency of port operations and management, reduce charges and promote competition, facilitate further development of Nigeria's transport infrastructure and eliminate or reduce incidence of port congestion. Others include reduction in government financial burden and increased private participation in port operation and management.