I WON'T LET IMPAIRMENT SHORTEN LIVES OF EKITI PEOPLE - ONI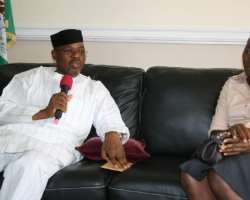 Ekiti State Governor, Engr Segun Oni has assured that his administration would not allow any avoidable medical impairment to incapacitate or shorten the lives of the people of the state.
Chief Press Secretary to the governor, Mr. Wale Ojo Lanre, said in a statement issued in Ado-Ekiti today, that Governor Oni gave the assurance while playing host to a totally blind 26 year old, final year student of the University of Ado-Ekiti, Miss Roseline Ojo whose sight was recently restored through the free eye surgery programme of his administration at the Ophthalmology centre, University Teaching Hospital, Ado-Ekiti.
While expressing happiness that the basis for the establishment of the centre was being realised the Governor said the successful operation carried on the totally blind patient was a further affirmation of the
commitment of the state government to the health of the people
He noted that his administration was not for cheap and false propaganda but reality and genuine developmental efforts of the state.
"Not too long ago, an administration in the state distributed less than 400 free eye glasses and constructed over 14 giant billboards to celebrate this "feat". We are not prepared to engage in that kind of deceit .At the last count, we have distributed over 12,000 eyeglasses and performed close to 3000 free surgery on needy patients and yet we have not erected a single billboard. This ophthalmology centre we put in place among the best 50 eye hospitals in the world. It is an undisputed fact that we are presently number one in the field of
ophthalmology in Nigeria today. We want to maintain that lead ", Oni
said
Oni who commended the team that handled the successful operation called on staff of the teaching hospital to use their further professional skills and virtues of dedication to duties and hard work to take the teaching hospital the top
He advised those facing health challenges not to hesitate to visit the teaching hospital for appropriate medical attention
Earlier, the beneficiary, Miss Roseline Ojo, a final year student of the University of Ado-Ekiti who expressed appreciation to the Oni-administration for the gesture expressed joy that succour came at last after going through the agony of being blind as a result of retina detachment for some months.
She noted that two rounds of corrective surgery at the ophthalmology centre, at the UTH Ado-Ekiti restored he sight.
Since the establishment of the ophthalmology centre, which began operation in January, this year, over 4000 patients have received free treatment.
1,118 of the patients received free eye glasses, 135 had free eye surgeries while 405 are expected to undergo free surgery within the next few days.