Kaduna State Government Yet To Confirm Viral Video On Neutralized Terrorists By The Security Forces (Photos)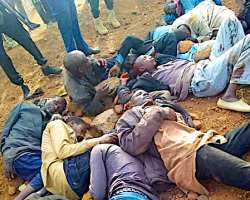 Kaduna State Government is yet to confirm the viral video making the rounds on social media of arrested and killed terrorists by the security forces. The government said that it is awaiting operational feedback from security agencies on terrorists reportedly neutralized and arrested at Kakura community in Chikun Local Government Area of the state.
The Kaduna State Commissioner of Internal Security and Home Affairs, Samuel Aruwan, disclosed this in a statement on Sunday, April 10, while reacting to a video making the round on social media platforms, allegedly showing security forces loading the terrorists in their vehicles.
It is suspected that the terrorists were intercepted on their way to attack Kakura Community in Chikun Local Government Area of the state last night.