Kidnapping: Police Begin Mass Transfer Of Officers In South East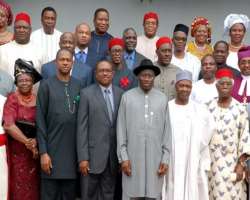 PHOTO: PRESIDENT GOODLUCK JONATHAN, VICE PRESIDENT NAMADI SAMBO, WITH SOME GOVERNORS OF SOUTH EASTERN STATES AND ELDERS DURING A COURTESY VISIT TO THE VILLA TODAY TO DISCUSS THE INSECURITY IN THE SOUTH EAST AMONSGT OTHER MATTERS.

San Francisco, July 19, (THEWILL) – THEWILL can report that officers of the Nigerian Police Force in South Eastern states are being transferred en masse to other parts of the country in a bid to eradicate abductions and violent crimes in the South East.
A source familiar with the directive from the Police IG said Mr. Ogbonnaya Onovo gave the order because of intelligence reports linking officers with criminal gangs engaging in kidnapping and violent crimes in the area.
The transfers will see some policemen currently working in Eastern Nigeria posted to Northern and Western States while those in the North and West will resume in the East.
But critics have said the plan will spread a cancerous crime to other parts of the country. One who opted not to be named said, "The strategic thing to do is leave the police men where they are now and purge them of the cancer that has eaten into them, instead of sending them to other sane areas and having them corrupt the new areas with their criminal tendencies."
But down-playing reports on the transfers, Police Spokesman, Emmanuel Ojukwu said the exercise was a "routine crime fighting strategy" that would see "new blood" injected into law enforcement in the area.
"The Transfer is a routine thing in the police that is done regularly. It is always aimed at injecting new blood into the system. Let no one see it as a punishment, but it's a crime-fighting strategy.
"Those who have spent four years could be transferred as a matter of routine," Mr. Ojukwu said.
Meanwhile, THEWILL can also report that four persons have been arrested so far following the abduction of the four journalists that were released last Sunday.
A News Agency of Nigeria (NAN) report said Mr. Ojukwu confirmed that the persons of interest were apprehended during the rescue operation to free the journalists.
"We have four persons in custody in respect of this offence. We have four arrests made but we are also in hot pursuit of other fleeing members of the gang and we shall catch up with them and bring them to justice.
"Fighting kidnapping is not solely the responsibility of police. It is our common problem and all of us will have to put our acts together, join hands to fight the menace.
"Kidnappers do not live in police barracks; they are not policemen; they live with the people and people should be able to fish them out and inform the police to arrest them.
"We are doing all we can to make sure that we have the wherewithal to pursue the crime of kidnapping and other violent crimes," he assured.