Ramadan Fasting Begins Today, Saturday April 2 2022 – Sultan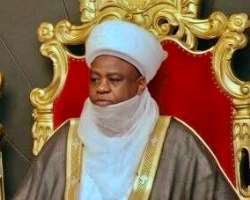 Alhaji Muhammadu Sa'ad Abubakar ll (President General, Nigeria Supreme Council For Islamic Affairs (NSCIA)
Nigerian Muslim faithfuls will commence Ramadan fasting today, Saturday April 2nd following the sighting of the crescent.
The Sultan of Sokoto, Alhaji Muhammadu Sa'ad Abubakar lll and President General of Nigeria Supreme Council for Islamic Affairs (NSCIA) confirmd this late night of Friday April 1.
The Sultan had Thursday directed Muslims in the country to search for the Ramadan crescent today as Shaaban reached 29th day.
Sultan announced the sighting of the moon via a video and it was also announced on the Twitter handle of the NSCIA.
"Assalamu Alaikum Wa Rahmatullah, Alhamdu Lillah, the crescent of Ramadan 1443H has been sighted at some locations in Nigeria," the tweet read.
He said, "Based on the reports sent to us on the sighting of the moon for month of Ramadan 1443. Therefore today (Friday) mark the end of Sha'aban. Tomorrow, in sha Allahu, we would start fasting in accordance with Shariah."
He also said reliable reports showed that the crescent of the moon was sighted in Sokoto, Yobe, Zamfara, Katsina, Plateau, Kaduna and Kano states among others.