STRIKING DOCTORS: GO BACK TO WORK, MARK PLEADS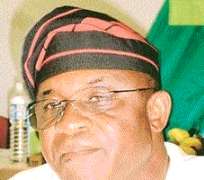 Mark
A call has gone to striking members of National Association of Resident Doctors of Nigeria (NARD) to return to work and save lives.
The President of the Senate, David Mark, who made the appeal at a meeting with members of the National Executive Committee (NEC) of the NARD at the weekend in Abuja assured them that government would make effort to meet their demands.
Members of the NARD are demanding among other things arrears of the Consolidated Medical Doctors Salary scale and allowances.
Senator Mark expressed hope that the doctors would sheathe their swords and resume work saying that 90 per cent of the work of medical practitioners was humanitarian and so, they should not continue to look the other way while their patients were dying.
The Senate President, while appealing to the doctors to review the four-week action in the interest of the ordinary Nigerian by going back to work, equally allayed their fears of a possible mass sack or the application of 'no work, no pay' if they do not return to work.
According to Senator Mark; 'Let me assure you that nobody will sack you because of your action or by demanding what is your due. Under the present democratic dispensation, nobody will sack people enmasse without recourse to the National Assembly. But please, return to work and save lives of innocent people, the poor and the less privileged. Give me time to table this matter before Mr. President, so that we can find amicable solution.'
Earlier, while briefing the President of the Senate, National President of NARD, Dr. John Tunde Aremu, said their demands included five-month arrears of salaries and allowances, poor and decaying infrastructure in government hospitals as well as professional training abroad.
Dr. Aremu, who noted that the strike, was painful and regrettable, said the doctors were left with no option but to embark on it as a last resort to draw the attention of the authorities to their plights. He dispelled the insinuation of religious, ethnic or political colouration to the strike and insisted that neither threat of mass sack nor 'no work, no pay' would intimidate them from demanding their legitimate dues.
Dr. Aremu, however, assured that the executive of NARD would communicate the pleas and efforts of the Senate to their members with a view to reviewing their action in the interest of all. 'We are very responsible professionals. We are not strike mongers. We were forced into this action because government refused to listen to us. We shall take your message to our people and revert to you,' Dr. Aremu said.
Daily Sun gathered that there were indications that the doctors might call off the four-week strike this week as a result of the intervention of the Senate leadership.