Oni expresses joy over release of kidnapped journalists charges security agents on crimes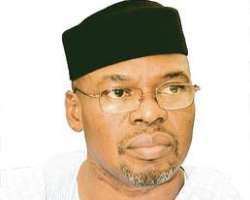 Segun Oni
Ekiti State Governor, Engr. Segun Oni has expressed joy over the release of four officials of the Nigerian Union of Journalists (NUJ) kidnapped last week, urging the police and other security agencies in the country to fight the menace of kidnapping and other crimes currently ravaging the country with sincerity and patriotism.
Speaking through his Chief Press Secretary, Mr. Wale Ojo-Lanre, Governor Oni said the case of the journalists has once again presented Nigeria as a nation under siege, adding that the police and all other security agents in the country must save the country from the embarrassment.
The abducted journalists that were released yesterday included Chairman, Lagos Council, Wahab Oba; the NUJ Zone G Secretary, Adolphus Okwonkwo; the Council's Assistant Secretary, Sylva Okeke, Shola Oyeyipo and their driver, Azeez Abdulrauf.
Governor Oni, who said no one should pretend that everything was right concerning the country's security situation noted that crime can only be fought effectively if people who commit crime are promptly brought to justice.
"I rejoice with the families of the freed journalists in particular, the NUJ and the entire journalists in the country in general.
"Most especially, I thank God that no harm was done to the journalists and pray that no such calamity will befall the pen pushers and the entire nation again.
"However, it is important at this juncture to call the on Nigerians to prevail upon the police to make the report of its investigation on the arrested kidnappers of the Attah of Aiyede, Oba Adeleye Orisagbemi, Provost of the College of Education, Ikere, Dr. Gabriel Olowoyo and others public.
"Charles Ovie Ojo and three notorious and dare-devil members of his gang were arrested in January, this year after the kidnap of Oba Orisagbemi and others but seven months after, Nigerians are still waiting on the police to make the preliminary report of its investigation public.
"This is notwithstanding the fact that Charles Ovie was said to have confessed to several other crimes committed in Ekiti State and its environs, including the murder of three men of the Special Anti Robbery Squad (SARS), SP Mohammed Manua, the O/C SARS Ekiti State Command, CPL. Wasiu Olatunbosun and CPL. Simeon Obadero on August 2, 2009.
"Also, Charles was said to have revealed the names of his sponsors to the police.
"Though, Charles Ovie and his gang were said to have been arraigned in a Lokoja, Kogi State Magistrate Court, it is still important for the police to be sincere and transparent with the prosecution of suspected criminals like Charles and his gang.
"It is until Nigerians are assured that those who commit crimes will always be made to face the law that kidnapping and other sundry crimes presently bedeviling the country can be successfully eradicated," Oni said.