U2 TOP FORBES.COM MUSIC HIGH EARNERS LIST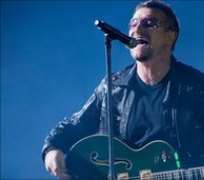 U2 have been the world's biggest-selling band over the past 12 months, raking in $130m (£84.9m), according to the website Forbes.com.
The Irish group have been staging their global 360 tour in support of their album No Line on the Horizon.
They claim the title despite singer Bono's bad back forcing them to cancel a Glastonbury festival appearance.
Rockers AC/DC were in second place with $114m (£74.5m) followed by Beyonce Knowles on $87m (£56.8m).
Bruce Springsteen was fourth on the list with $70m (£45.7m).
The list
1. U2: $130m (£84.9m)
2. AC/DC: $114m (£74.5m)
3. Beyonce Knowles: $87m (£56.8m)
4. Bruce Springsteen: $70m (£45.7m)
5. Britney Spears: $64m(£41.8m)
6. Jay-Z: $63m (£41.1m)
7. Lady Gaga: $62m (£40.5m)
8. Madonna: $58m (£37.9m)
9. Kenny Chesney: $50m (£32.6m)
10. Black Eyed Peas/Coldplay: $48m (£31.3m)
Despite a difficult recent history, singer Britney Spears was in fifth place with $64m (£41.8m) while Knowles's husband Jay-Z was in sixth place with $63m (£41.1m).
One of the few relatively youthful acts on the list was Lady Gaga, who has amassed $62m (£40.5m) in the year to date, according to the website.
The singer has been performing the Monster Ball tour around the world.
Madonna demonstrated that she remains a major player in the music industry by coming in at eighth place, while the British band Coldplay finished in joint 10th alongside the Black Eyed Peas.