FOURTEEN KILLED IN NORTHERN ALBANIA BUS CRASH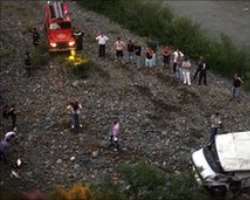 At least 14 people have died after a bus fell off a cliff in northern Albania, officials say.
At least 12 other people, including children, were injured in the accident in the Puka district, about 140km (87 miles) north of the capital Tirana.
Several of the injured are reported to be in a serious condition.
The cause of the crash was not immediately clear, but some reports blamed bad weather.
Police official Hysni Burgaj said a sudden downpour had caused the accident at about 1700 local time (1600 GMT) on Saturday, the Associated Press news agency reports.
A police investigation is currently under way.
The injured were airlifted to hospitals in Tirana and Shkoder and were later visited by Albania's President Bamir Topi and Prime Minister Sali Berisha.
The bus was reportedly returning holiday-makers from the coastal city of Durres.
However, the exact number of passengers aboard the bus was not known.
The government has declared Sunday a day of national mourning.